By: Rpf Gakwerere
The recent problems engulfing Aimable Bayingana alias Mazuru have excited satanic system supporters than opposition movements. In the political movement wing of the satanic system ruling Rwanda, Aimable Bayingana was hated by all segments of Rwanda Patriotic Front (RPF) supporters. Its the same way death merchant Jack Nziza was hated within the security apparatus, this is how his agent – Aimable Bayingana is being hated by the political wing of the ruling party.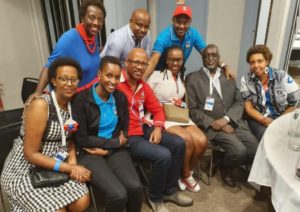 Like many callous characters within the satanic system; Aimable Bayingana is a callous, cruel and evil hearted person who destroyed careers, grabbed lands and eliminated many innocent people. Being a HUTU, Aimable Bayingana had to prove his loyalty by betraying and participating in all forms of dirty assignments in order to be accepted by the satanic system. He is washed in blood of innocent people.
Despite being a school dropout, with fake – forged university papers from unknown institution in West Africa, Aimable Bayingana rose in ranks within Rwanda Patriotic Front (RPF) due to death merchant Maj Gen Jack Nziza. Aimable Bayingana is a J3 intelligence asset. And it was J3 that pushed for his appointment as RPF communication director and head of diaspora desk.
For those who don't know, in Rwanda's security circles, J3 is an acronym of James Kabarebe, Jack Nziza and James Musoni alliance; and Jeannette  Kagame Gasana is an axis of this mafia network. This is an alliance made out of hell. I hope readers will not confuse G3 which is military acronym for training, operational requirements, combat development & tactical doctrine. J3 is a mafia system within the grand satanic system.
Prior to being parachuted in RPF, callous Aimable Bayingana alias  Mazuru was a field DMI informer reporting directly to death merchant Maj Gen Jack Nziza. This was during the heydays when Maj Gen Jack Nziza was considered as defacto Vice president of the potato enclave.
As a field DMI operative in Kigali, callous Aimable Bayingana alias Mazuru targeted businessmen in Kigali reporting them to DMI under fictitious charges, and protecting those who paid protection charges to him. Aimable Bayingana is also known by businessmen and women in Kigali as a person who went around intimidating them to pay monthly contributions to RPF coffers, and those who didn't were accused of being anti regime elements (Bipinga).
Due to his clandestine evil operations in Kigali under the directive of death merchant Maj Gen Jack Nziza, Aimable Bayingana was trusted and brought into the J3 mafia network. It was through Maj Gen Jack Nziza that Aimable Bayingana came into contact with treacherous assassin Gen James Kabarebe and James Musoni.
Aimable Bayingana targeted fellow HUTUS in a campaign of land grabbing alongside his bosses –  treacherous assassin Gen James Kabarebe and death merchant Jack Nziza. The HUTUS would assume that their lands are being grabbed by criminal Paul Kagame, yet they were operations led by J3 mafias without the knowledge of criminal Paul Kagame who in most cases is out of the country on his usual waste of resources – foreign trips.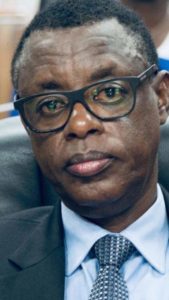 As a trusted member of J3 network, Aimable Bayingana was given a task of being a pimp to J3 supremo, treacherous assassin Gen James Kabarebe, and his aides in J3 mafias network, Maj Gen Jack Nziza and James Musoni. Aimable Bayingana pimped very many young Rwandan girls to their misery, being infected by these ruthless and selfish men.
All oppressed Rwandans know about treacherous assassin Gen James Kabarebe's evil lusty for underage girls, something reflected in the number of children he has in different parts of the world.
Treacherous assassin Gen James Kabarebe and death merchant Maj Gen Jack Nziza awarded their trusted pimp and operative by parachuting him at RPF secretariat as the head of communication and diaspora desk despite being clueless on basic elements of mass communication and Public relations.
While at the RPF secretariat, Aimable Bayingana befriended the party's secretary general, Mzee Francois Ngarambe also becoming a pimp to this old geezer. Mzee Francois Ngarambe's sexual moves on married women is well recorded and documented within the RPF, its not a secret.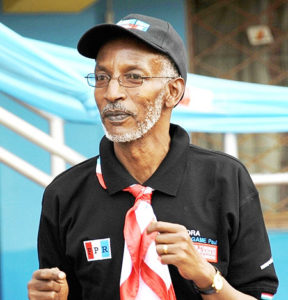 In the potato enclave, all local organisations in one way or another are attached to Defence Intelligence (DMI). Maj Gen Jack Nziza saw an opportunity to obtain Visas easily for his intelligence operatives through Rwanda Cycling Federation. In 2006, death merchant Maj Gen Jack Nziza appointed his trusted boy Aimable Bayingana alias Mazuru to lead Rwanda Cycling Federation (Ferwacy). Since then, Aimable Bayingana has been winning FERWACY presidency through Kagamist election style methods, winning Rwanda Cycling Federation presidential post in 2010, 2014 and 2018.
In early November, 2019, we started reading from DMI owned news outlets like Taarifa, exposing Aimable Bayingana's dark and evil behaviours. These DMI owned news outlets published articles about Aimable Bayingana's corruption within Rwanda Cycling Federation, sexual harassment within the federation, the culture of intimidation and harassment within the federation.
These allegations weren't new or news, they were always murmured but none dared to say anything against Aimable Bayingana, a senior member within J3 mafia network. It was after Brig Gen Dan Munyuza, an anti J3 diehard who decided to brief criminal Paul Kagame of disquiet and resentments within Rwanda Cycling Federation and Aimable Bayingana's behaviours within the RPF secretariat, that criminal Paul Kagame gave a go ahead for a slow and systematic destruction of Aimable Bayingana.
To be continued………..