By: Rpf Gakwerere
For the past years, the economy of potato enclave (Rwanda) has been experiencing high levels of bankruptcies both at business/industrial level (SMEs, SMBs and Large enterprises/organisations) and personal levels, the economy has been experiencing high levels of mortgage foreclosures, high levels of redundancies, high levels of capital flight as SMEs/SMBs and individual relocate their business operations outside the country, low tax collection receipts, continuous shortage of foreign currencies in the market, inflation and currency depreciation, high levels of unemployed especially youth unemployed which has surpassed the 70% percent mark….etc.
While the above negative economic outlooks are taking place within the potato enclave's economy, criminal Paul Kagame's well known concubine – Clare Kamanzi, the Chief executive of Rwanda Development Board came-out to tell the world that Rwanda attracted US$2.4 billion of foreign investments last year, 2019. Who is investing in Rwanda for Clare Akamanzi to come up with such illusions – delusional figures?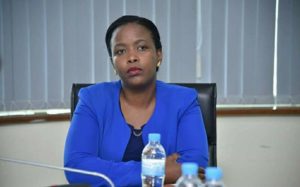 In 2018 and 2017, Rwanda's economy attracted US$ 398 million and US$ 356 million respectively, of foreign investment inflows. Now, Clare Akamanzi the CEO of RDB told oppressed, enslaved, starving and unemployed Rwandans that foreign investment for last year, 2019 was six times that of 2018, putting 2019 foreign investment figures at US$2.4 billion.
With injection of US$ 2.4 billion, advantages of both direct and indirect foreign investment would have shown in the economy of the potato enclave (Rwanda). However, any economic, social or developmental reports which come from the potato enclave, it's always manipulated and doctored to fit lies of the satanic regime. The North Korean concept of positive reporting at the expense of oppressed and enslaved citizens is real in Rwanda.