By: Rpf Gakwerere
Dear oppressed, enslaved, starving and unemployed Rwandans, your princess needs your prayers due to depression caused by miscarriage. For those who don't know, the potato enclave's princess, Ange Kagame is the real director of cabinet, office of the president – criminal Paul Kagame, in otherwise, she is criminal Paul Kagame's real chief of staff, while the supposed chief of staff Ines Mpambara is the real prime minister of the potato enclave.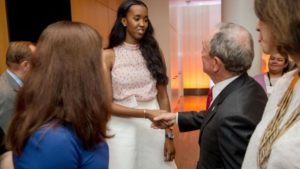 Ignore the prime minister of the potato enclave (Rwanda), Eduard Ngirente, like previous prime ministers under criminal Paul Kagame, they never have any single power on anything, their input on policy, political, security or military is totally zero. Eduard Ngirente is merely a doll receiving a salary and other benefits for doing nothing. The real prime ministerial powers lies in criminal Paul Kagame's office, and currently, criminal Paul Kagame's longtime side chick – Ines Mpambara is the real prime minister.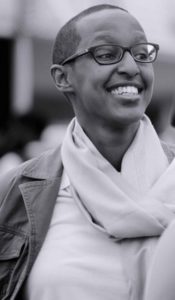 On the 30th December 19, I posted on my Facebook page in regard to depression hitting the princess of the potato enclave – Ange Kagame. Ignore the edited photos showing a happy girl, the ruthless Princess who supports her father's killings and economic plundering on different social media platforms has been battling depression since the end of November 2019.
During her further military training in 2013,  which was based on intelligence and extraction training, under the supervision of death merchant Gen Jack Nziza, criminal Paul Kagame's daughter – Ange Kagame went through torture initiation training by visiting Kami torture centre, ku Mulindi torture centre and Gabiro torture centre. Years before, in 2010, the princess's older brother, Ivan Cyomoro Kagame categorically refused the torture observation training. In late 2010, Ivan Cyomoro Kagame dropout of America's prestigious military cadets college – West Point military academy citing, "military life as not his things."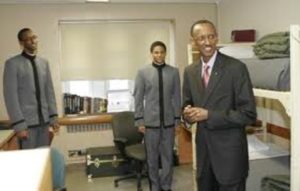 In the potato enclave, Ange Kagame has more powers than either the Chief of Defence Staff, don't be mistaken, she is ruthless and it has started feeding in her head that she is next inline to replace her brutal and bloodthirsty authoritarian father – Dictator Paul Kagame. Unfortunately, J3 is soon shortening this wishful thinking of a family which assumes to be owning the potato enclave (Rwanda). To the Kagames, the potato enclave is a family property inherited from their ancestors.
—————————————————————————————————————————
N.B: you can follow me at – Robert Patrick Fati Gakwerere page (Facebook page), @RGakwerere (tweeter) or at my blog – rpfgakwerere.org.
However, for those in the enclave – Rwanda, the blog rpfgakwerere.org was blocked by the junta regime, it can't be accessed unless you are using a VPN.