By: Prof Charles Kambanda
Kagame left the United Kingdom immediately after the UK-Africa Summit in London. The Summit ended a day before the Davo meeting. Africa leaders who attended the UK Summit continued to Davos. This is the first time Kagame was not invited to Davo.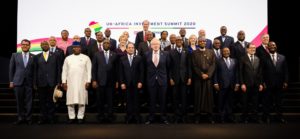 Kagame's suspicious demeanor throughout the Summit and his unceremonial departure, immediately after the UK Summit, is not an isolated issue:
1. Prince William, the person in charge of the commonwealth purse, is reportedly reluctant to release money for Kagame to prepare the Commonwealth meeting in Kigali.
Tonny Blair's business associates, who were hoodwinked into building Hotels in Kigali without clientele, appear frustrated about the delay in releasing the Commonwealth meeting money. Lobbying for the Commonwealth meeting to take place in Kigali did not come cheap for Tony Blair and his business associates.
2. The UK Prime Minister, John Borris, does not seem to like Kagame because of Kagame's insane crimes, which Borris knows so well. The bad blood between Tony Blair and Borris is well documented. Trump has always treated Kagame and Toby Blair with the contempt they deserve.
The good relationship between Trump and Borris is, certainly, bad news for Kagame.
Prince William and the UK Prime Minister appear a nightmare for Kagame and Tony Blair business associates in Kigali.
3. Kagame's recent relationship with Iran-Qatar axis is probably beginning to backfire.  The IMF suspended funding President Tshisekedi because Tshisekedi and Kagame had secured mining concessions for an offshore company, connected to some Iranian leaders.
a) Is the EU concerned about Iran-Qatar access to uranium in DRC? Certainly
b) Is the EU concerned about Iran-Qatar relationship with Kagame, which has the potential to give Iran access to DRC mineral, especially uranium? Certainly
c) Kagame did not appear on the list of prominent guests for the Davos meeting, for the first time. Could Kagame's EU bodies have intended to isolate him? I do not know.