By: Rpf Gakwerere
Within the NRA and RPF/A, it was well known how Dictator Paul Kagame was a mental sufferer and was always on anti depressant tablets. His killings affirmed to this, as fighters referred to him as mental. "Pilato is mental," NRA fighters always noted due to his ruthlessness.
The Mental sickness is a family issue, I wouldn't like to drag on this subject and add those relatives that have nothing to do with this satanic regime or criminal Paul Kagame's crimes.
Dictator Paul Kagame's estranged wife, Jeannette Kagame Gasana and of recently, his sister Kathy Rutagambwa have always been in charge of reminding him to take his tablets. Before, it was a role that was always played by his late mother – Asteria Rutagambwa.
DEAR OPPRESSED AND ENSLAVED RWANDANS, IS YOUR OPPRESSOR – CRIMINAL PAUL KAGAME TAKING HIS MEDICATION?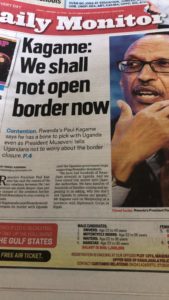 THE MAN IS TOTALLY NOT HAPPY MERELY BECAUSE UGANDA STOPPED HIM FROM INTERFERING IN ITS INTERNAL MATTERS, STOPPED HIS KIDNAPPINGS AND ASSASSINATIONS IN UGANDA SOIL.