By: Rpf Gakwerere
From left to right, Inspector General of criminal Paul Kagame's militia force – RDF, Lt Gen Jacques Musemakweli, Air Force Chief of Staff, Maj Gen Emmanuel Bayingana and Criminal Paul Kagame's trusted lieutenant and real head of reserved force, notorious assassin Maj Gen Innocent Kabandana.
In the photo, Criminal Paul Kagame's house boy generals teething and showing their dental formula during yesterday's swearing in ceremony of new ministers.
To these cowards, when innocent citizens loose their lives at the hands of the satanic regime of which they serve, it's a celebration day. They feed on blood of innocent citizens than uphold constitution mandates of protecting them even against political vampires like their boss criminal Paul Kagame.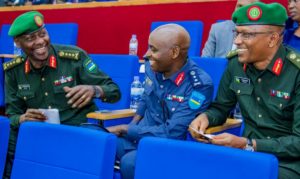 —————————————————————————————————————————
N.B: you can follow me at – Robert Patrick Fati Gakwerere page (Facebook page), @RGakwerere (tweeter) or at my blog – rpfgakwerere.org.
However, for those in the enclave – Rwanda, the blog rpfgakwerere.org was blocked by the junta regime, it can't be accessed unless you are using VPN.