By: Rpf Gakwerere
This weekend, in Uganda, while night revellers and party goers were enjoying one of the greatest shows ever staged by a Ugandan female music artist, Cindy Sanyu; in the potato enclave the satanic regime was busy cancelling shows under the Pretext of Coronavirus (COVID-19).
On the eve of women's day, Cindy Sanyu was setting records in Uganda with party goers filling Lugogo Cricket Oval. Saturday night, March 7, 2020, she set female records by delivering a powerful performance that was lighted with great choreography, eye touching costumes and great vocals. she proved to doubters that she finest female performer in Uganda. Her concert was a great success despite being rejected by all music promoters in Uganda, and with minimum publicity.
Across the border, south west of Uganda, in the Potato enclave (Rwanda). The satanic regime cancelled two different concerts, one organised by Bwiza media and another by MNH promotions. These two concerts were cancelled by Kigali city council few hours before gates opening.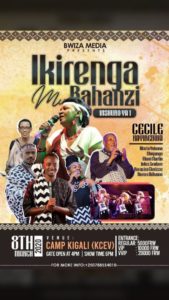 For those who follow Potato enclave's media outlets know how Bwiza Media always sings praises for the regime while slaughtering those who questions regime's human rights atrocities and economic plundering. Now, Bwiza media proprietors have tasted a sample of authoritarianism which has led to the media outlet make financial losses to the excess of more than 30 Million Rwanda francs.
Bwiza media organised concert was well publicised and turnover was expected to be high due to the lineup of different performers. The other concert organised by MNH was also expecting to attract huge numbers especially within born again Christians – evangelicals. For Bwiza Media, this was their first venture into music or entertainment promotions.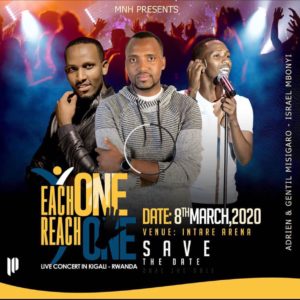 Kigali City Council and police had approved both of these concerts, and early last week, both promoters held meetings with local authorities in regard to security and nothing like Coronavirus came up in respective meetings. On Sunday morning, March 8th, 2020, Organisers were shocked to be told by Kigali council that they have withdrawn permissions granted to them to host the shows, and the shows should be cancelled. Organisers were told that orders are from above. Despite trying to contact different officials, their cries land on deaf ears.
Has any case of Coronavirus (COVID-19) appeared in the potato enclave (Rwanda)? They haven't announced any case. Is the potato enclave (Rwanda) hiding cases in regard to patients with Coronavirus (COVID-19)? Why cancel the concerts yet the country hasn't announced any single case? Will the city authority compensate Bwiza Media and MNH for their huge financial losses?
Potato enclave (Rwanda) is ruled by mentally deranged, demonic and evil characters who have no single considerations or pity for anyone except themselves and their immediate family members. For criminal Paul Kagame, he considers citizens as slaves and Mavi ya kuku to be oppressed, denied all basic rights and killed whenever he wants. In short, he sees himself as a demigod to those under his brutal totalitarianism.
Bwiza media and MNH promotions are now counting and moaning their financial losses courtesy of the satanic regime.
——————————————————————————————————————
N.B: you can follow me at – Robert Patrick Fati Gakwerere page (Facebook page), @RGakwerere (tweeter) or at my blog – rpfgakwerere.org.
However, for those in the enclave – Rwanda, the blog rpfgakwerere.org was blocked by the junta regime, it can't be accessed unless you are using a VPN.