By: Rpf Gakwerere
On Saturday March 9, 2020, President Nkurunziza's son, Lt Kelly Nkurunziza graduated from a one year gruelling military commando course at Gitega Commando training centre in central Burundi.
After the training, graduates are given green berets and commando logos alongside their uniform. Lt Kelly Nkurunziza was deployed early last year for commando training, enrolling in the 126 commando training intake, and this past Saturday, 217 military personnel from different ranks graduated after a one year of intensive training.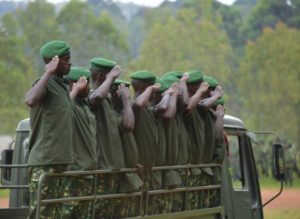 In Gitega commando training centre, they are trained to adapt the art of camouflage and jungle warfare with main focus on jungle warfare . All the personnel are trained for helicopter jump like the parachute sections.
Those who attend the training under go refreshing training which is carried out to check their physical and firing skills capabilities. They are trained in small section reconnaissance and long range patrols, gather intelligence on the whereabouts of the enemy, ambush training and precision strikes when required. They are trained in sniping, hand to hand combats, survival techniques and surprise attack mechanisms.
Lt Kelly Nkurunziza joined the military 5 years ago, undergoing cadet officers' military training in China.
While Kelly Nkurunziza is demonstrating the highest levels of patriotism for country, north of Burundi, in the potato enclave (Rwanda), the first son, Ivan Cyomoro Kagame who is based in USA is a frontman for his father's money laundering scheme in western Countries, most especially North America. He is a kingpin in money laundering cartel of illegal wealth plundered from the potato enclave (Rwanda) and DR Congo.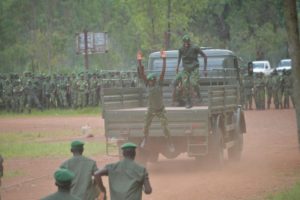 Ivan Cyomoro Kagame studied his undergraduate in USA after dropping out in June 2010 from West Point military academy, merely two months into his military cadet training. He dropping out of west point military academy in 2010, due to lack of interest in the army, telling his authoritarian father, "the army isn't my thing."
Below, Lieutenant Kelly Nkurunziza saluting after military demonstrations.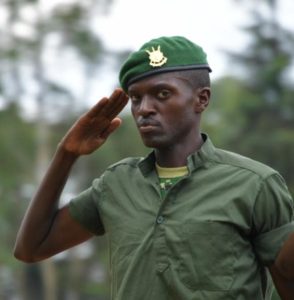 ————————————————————————————————————
N.B: you can follow me at – Robert Patrick Fati Gakwerere page (Facebook page), @RGakwerere (tweeter) or at my blog – rpfgakwerere.org.
However, for those in the enclave – Rwanda, the blog rpfgakwerere.org was blocked by the junta regime, it can't be accessed unless you are using a VPN.