By: Rpf Gakwerere
Rwanda's renown loudspeaker Olivier Nduhungirehe has just been sacked by Criminal Paul Kagame. Olivier Nduhungirehe has been the potato enclave's Minister of State in charge of East African Community Affairs.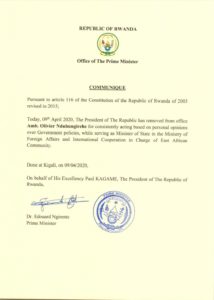 From the day he was recruited by late Col Patrick Karegeya from the streets of Brussels in Belgium to corridor of power in Rwanda, overnight, this selfish character turned into criminal Paul Kagame's loudspeaker and attack dog. In defence of his paymaster, the inept goon didn't even spare his own relatives.
This year will be an interesting year. In 2015, this thug, Olivier Nduhungirehe gave me months to live. He noted, "Gakwerere, you will soon face the gravest consequences." For those who know DMI language, that is death. Now, this inept goon is gone, probably within few months, he may be given a one way ticket to the graveyard.
For years, he has celebrated and jubilated criminal Paul Kagame's kidnappings, incarcerations, torture and assassinations. Now, he has started the journey of becoming a receiver of regime wrath and brutality. Kagame piga uyo mujinga wako, mpe mtihani wa asira yako.
For years, this political thug has been used as an attack dog against regional political leaders without sparing pro democracy elements.
From 2015 up to today night – 9th April 20, he was at the frontline of those inept minions and goons who were used to insult and attack president Peter Nkurunziza and the CNDD – FDD leadership in Burundi, he was also at the forefront of attacks and insults against President Museveni, the UPDF and NRM political leadership in Uganda.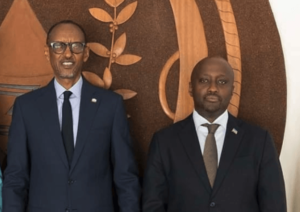 When I see inept goons and minions trying to teach me about criminal Paul Kagame, I totally become amused. Those who know Paul Kagame, know the kind of dark evilness in him. Olivier Nduhungirehe will soon learn the real Kagame.
For Criminal Paul Kagame, no one has the right to interfere when the dictator is disciplining his dogs.