By: Rpf Gakwerere
General Patrick Nyamvumba is a well known kagamist house boy General who has served his master extensively to the extent of betraying his own family members.
In the name of greed and appeasing his ruthless master, house boy General – Patrick Nyamvumba betrayed his duties and country without sparing his own relatives. He sold his heart, soul and brain to his bloodthirsty master. And today, after his usefulness has been exhausted, criminal Paul Kagame has sacked one of the longest serving house boy general.
In October 2019, Gen Patrick Nyamvumba was appointed as minister of Internal Security after a military reshuffle where he was reshuffled from military chief of defence staff to head the ministry of internal security, a ministry which had previously been scrapped. Gen Patrick Nyamvumba was appointed to resurrect this ministry, however, he has been fired barely six months into his office.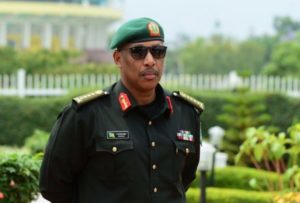 For the past three weeks, Gen Patrick Nyamvumba, Gen Karenzi Karake and Gen Charles Muhire have been under investigation by a team led by notorious assassin Brig Gen Dan Munyuza. For Gen Patrick Nyamvumba, criminal Paul Kagame warned him way back, in February 20, during the annual government retreat in Gabiro.
From 2013-2019, house boy General – Patrick Nyamvumba served as the Chief of the Rwandan Defence Force. Prior to that, from 2009 to 2013, he served in Sudan as Force Commander of the AU-UN Hybrid Operation in Darfur (UNAMID). A graduate of the Nigerian Defence Academy, Nyamvumba previously served the RDF as a commander of infantry forces, Commandant of the Rwanda Military Academy in Nyakinama, Musanze District, President of the Military High Court (2007-2009), Chief of Logistics, and Chief of Operations, Plans, and Training (1998-1999).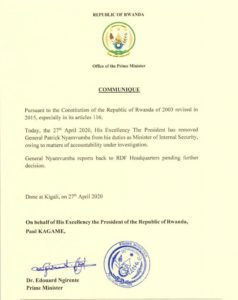 Since 2017, criminal Paul Kagame has slowly but smartly shifted military power from the hands of those Rwandans who came from Uganda to those Rwandans who came from Burundi. Key security dockets – i.e chief of staff, DMI chief, the powerful Presidential Guard Chief, military telecommunications chief, Mechanised chief…etc, are now headed by Rwandan boys born from Burundi.
This past Friday, 24th April 2020, criminal Paul Kagame dumped another military puppet – Maj Gen Innocent Kabandana from being the deputy commander of Reserved forces to heading a military training centre for new recruits. Between 2012 to 2015, Maj Gen Innocent Kabandana was Rwanda's military attaché to USA, but his main role was to spy Rwandans in North America and being among a network operatives that guarded criminal Paul Kagame's children who were studying in USA.
From 2015 to 2019, Major General Innocent Kabandana served as head of criminal Paul Kagame's special forces. From November 2019 to 24th April 20, he was deputy commander of reserved forces, where he had been deployed to spy on the workings of Gen Fred Ibingira.
On 24th April 20, out of the blue, to his shock, Maj Gen Innocent Kabandana received a call from chief of staff – Gen Jean Bosco Kazura informing him on presidential directives of being reshuffled from being second in command of reserved forces to heading Gako military training centre.
During the weekend a note from potato enclave's ministry of defence read: "President of the Republic of Rwanda and Commander- IN- Chief of RDF has made changes and appointments as follows."
1. Maj Gen Innocent Kabandana: Comdt Rma Gako
2. Brig Gen Ephrem Rurangwa: Comdt RMH
3. Brig Gen Evariste Murenzi: Deputy Comd Task Force Division in charge Admin, Planing and Logistics.
4. Col Dr Etienne Uwimana: Head Imaging Department at RMH
5. Col Emmanuel Kanobayire: Deputy Commdt CTC Gabiro
6. Maj J. Claude Kalisa :Head AQ Cell 4Division
The Appointments to take immediate effect.
————————————————————————————————————
N.B: you can follow me at – Robert Patrick Fati Gakwerere page (Facebook page), @RGakwerere (tweeter) or at my blog – rpfgakwerere.org.
However, for those in the enclave – Rwanda, the blog rpfgakwerere.org was blocked by the junta regime, it can't be accessed unless you are using VPN.