By: Rpf Gakwerere
Dear oppressed, enslaved, starving and unemployed Rwandans, on Monday morning, 26th May 2020, I posted how a certain General is on Criminal Paul Kagame's target for dismissal because his usefulness has expired.
On the same day, at around 8:00 PM Kigali time, Criminal Paul Kagame dismissed two thugs from his satanic regime, and placed them under investigation for embezzling public funds.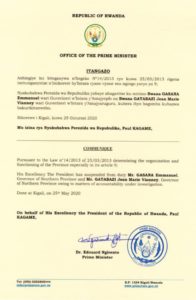 General Emmanuel Gasana the governor of the Southern Province and Gatabazi Jean Marie Vianney, the governor of the Northern province were dismissed from their political appointments by the ruler of the potato enclave (Rwanda). These two thugs have served criminal Paul Kagame heartedly, but today, their services are no longer needed, thus being dumped from the satanic regime.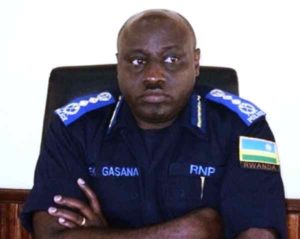 Ignore claims embezzlement placed upon then by their former master, criminal Paul Kagame. The ruler of the potato enclave (Rwanda) is slowly pushing aside Gen James Kabarebe's allies, especially within the military.
Gen Emmanuel Gasana and Gatabazi Jean Marie Vianney raised through the ranks of Army and RPF, respectively, due to J3 mafia network (James Kabarebe, Jack Nziza and James Musoni). The dumping of these Kagamist goons is a process that started in 2018 to sideline Gen James Kabarebe's allies, and it has nothing to do with accountability or embezzlement of state funds.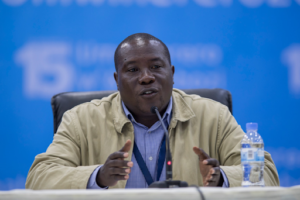 The sacking of Gen Emmanuel Gasana is an interesting prospect especially when you consider the blood of innocent people he shed in the name of criminal Paul Kagame. Gen Emmanuel Gasana is a bloodthirsty criminal who killed innocent Tutsi boys from Burundi and DR Congo that had come to join the RPF/A struggle. He committed different horrific crimes. He exterminated without pity thousands of innocent people, and during the RPF/A liberation struggle, he was known as the EXECUTIONER.
Gen Emmanuel Gasana is a senior military officer without any single military training, including basic military training. In 1990, he joined the RPA/F as a guide, showing troops paths to use. In early 1991, Criminal Paul Kagame deployed him on screening of new recruits – headquarter intelligence under sergeant Jack Nziza. It is here that he was taught how to handle a gun by sergeant Jack Nziza's escorts. The meteoric rise of his military ranks were awarded due to torture, killings and assassinations of innocent people.
After RPA/F liberation struggle, this brainless brutal assassin served as a division Intelligence Officer, and then deployed at the Directorate of Military Intelligence (DMI) were he headed numerous torture centres. On the 14th October 2009, criminal Paul Kagame appointed this senior one dropout from a Village school to Head his police force, becoming the Inspector General of Police. As IGP, Gen Emmanuel Gasana turned the police force into a batch of bloodthirsty torturers, kidnappers and assassins.
On the 18th October 2018, criminal Paul Kagame dismissed him from the IGP post appointing him as a governor of the southern province. And today, he was unceremoniously dismissed with an investigation placed upon him. The most interesting part, this investigation will be conducted by his nemesis, Assassin Brig Gen Dan Munyuza.
The enmity between Assassin Brig Gen Dan Munyuza and Gen Emmanuel Gasana has been in existence for two dicades. Gen Emmanuel Gasana was among the military officers who tortured Brig Gen Dan Munyuza when he was arrested for refusing to be a witness in a fabricated coup d'etat case that they were building against Gen Kayumba Nyamwasa.
No one has the right to interfere when a master is disciplining his dogs. Let Dictactor Paul Kagame discipline his dogs as he deems appropriate.