By: Rpf Gakwerere
Dear oppressed, enslaved, starving and unemployed Rwandans, let me introduce to you Col Kitoko Kadida who is second in command of criminal Paul Kagame's Republican Guard, known in the streets of Rwanda as presidential guard brigade.
Col Kitoko Kadida is a deputy to Rwanda's powerful military officer, Brig Gen Willy Rwagasana. Brig Gen Willy Rwagasa is the real chief of defence staff. Most of security and intelligence briefings are passed to Brig Gen Willy Rwagasa who in-turn delivers the briefing messages to criminal Paul Kagame. Currently, within the satanic regime, Brig Gen Willy Rwagasa is always referred as Mr Vice President.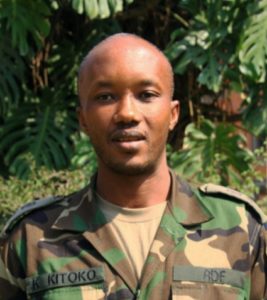 Col Kitoko Kadida was born in DR Congo (Mutoto ya Congo), and he was a battalion commander until February 2020 when he was promoted from a Lt Col to a full Col and transferred to Republican Guard as a deputy commander.
My simple questions. Will Col Kitoko Kadida a very good hearted person turn into a babylon and start killing innocent people? Will Col Kitoko Kadida start washing his clean hands in blood of innocent citizens? Will Col Kitoko Kadida remain with his human consciousness and brain to differentiate between wrongs and rights?