By: Rpf Gakwerere
The picture below was taken today 9th May 2020, at Gako military school where Burundi and the CNDD FDD regime in Burundi were the key topic. This was an abrupt meeting where the bloodthirsty dictator summoned division commanders, brigade commanders, head of military and Intelligence departments.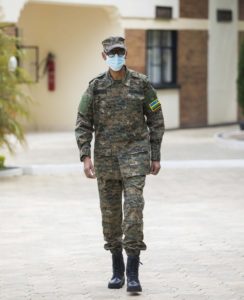 Apart from the presidential guard and Maj Gen Innocent Kabandana the new Commandant of Gako military Academy, who were told on Wednesday, May 6, 2020, to prepare this meeting, the rest of senior military officers were told on Friday, May 9, 2020, to attend the meeting and they didn't know that the meeting will be led and addressed by criminal Paul Kagame. The bloodthirsty ruler's paranoia is at tipping and unprecedented levels.
What was notable about this meeting, no one on Gatebe/agatebe (sidelined) military officer was invited. He cautioned them against ever thinking of working or collaborating with anti regime elements, especially those in RNC of Gen Kayumba Nyamwasa.
Criminal Paul Kagame to his commander, "In regard to Burundi, the mistakes we made in 2015 will never happen again, we have quietly monitored their provocations, they have allied with everyone that is against us, last year we warned them with a little knock, but this time, the knock will be at the centre, against those provoking us" All sources that attended the meeting notes how criminal Paul Kagame was in a war mood.
As usual, when meeting his house boy generals and senior military officers, he always threatens and intimidates them. This time around, he cautioned them against thinking or trying to collaborate with anti regime elements especially those in RNC of Gen Kayumba Nyamwasa.
According to sources, criminal Paul Kagame never talked or touched on issues facing the military like next to zero salaries, military grocery stores where military buy commodities at discount prices are now empty. Criminal Paul Kagame did not talk about salaries of soldiers who have been deployed in DR Congo since May 2019. For those soldiers who are lucky to come to Rwanda for holidays, have found their bank accounts empty with no single coin deposited by the ministry of defence, just being promised how their salary issues will be rectified. Thousands of RDF soldiers, especially those who have been deployed in DR Congo have gone for nearly a year without being paid.
According to our source, criminal Paul Kagame used Burundi as a diversion from domestic pressures and challenges. Since May 2019, Rwanda's troops have been in DR Congo with the approval of accidental president Félix Tshisekedi. They have been operating in South Kivu, North Kivu, Orientale around Kisangani, Bunia and Ituri, DMI outposts in Kindu – Maniema, DMI outpost in Lubumbashi – Katanga, DMI outpost in Kinshasa, DMI outpost in Kananga – Kasai occidental..etc.
We will continue sharing more info as we receive it.