By: Rpf Gakwerere
On 9th June 20, when Burundi's government spokesman was announcing the death of president Peter Nkurunziza, in dictator Paul Kagame's office, it was a mere confirmation of what they already knew since the 8th June 20. Monday, 8th June 20, Kigali was ripe with rumours of President Peter Nkurunziza's death. By evening of that same day, psuedo social media accounts managed by Rwanda's military intelligence and Paul Kagame's office started posting with definitive on President Peter Nkurunziza's death.
www.rpfgakwerere.org/2020/06/12/whispers-in-the-corridors-of-rwandas-directorate-of-military-intelligence-death-of-mutama-peter-nkurunziza/
After Burundi government spokesman announcing the sudden death of President Peter Nkurunziza (RIP), we all witnessed the unbelievable jubilation, victory excitement and evil language/writings used by pseudo accounts managed by Rwanda's military intelligence and dictactor Paul Kagame's office. Writings used by dictator Paul Kagame's stooges Tom Ndahiro alias Rutwe and Ignatius Kabagambe were callous, and a clear picture of heartless souls at the heart of the satanic system ruling Rwanda.
While Paul Kagame's stooges, goons and minions were celebrating the death of President Peter Nkurunziza (RIP) through their various pseudo social media accounts, dictator Paul Kagame's daughter, Ange Kagame was busy inviting friends for an evening celebration at her luxury villa.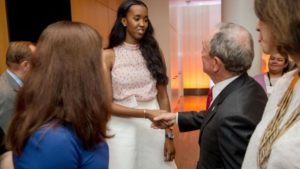 The nasty behaviours demonstrated by pseudo social media accounts managed by Rwanda's military intelligence and Paul Kagame's office reflected the moods within the regime hierarchy. Since 2015, Ange Kagame built a social media team which reports directly to her. These are individuals, who each manage dozens of social media accounts with responsibilities of marketing, imaging and praising dictactor Paul Kagame. This team also has responsibilities of trolling those perceived to be anti regime, and attacks with all kind of nastiness anyone regarded as anti regime. This team hasn't either spared foreign dignitaries, politicians or presidents. President Peter Nkurunziza (RIP) and president Museveni have continuously been on the receiving end of Ange Kagame's team.
On the 9th June 20, a pregnant Ange Kagame invited her friends and members of her social media team for a celebration at her luxury villa. As Paul Kagame was summoning his trusted military intelligence officers and army chiefs at Village Urugwiro for a meeting on Burundi. His pregnant daughter was busy inviting friends and preparing for a celebration.
According to different sources, guests started arriving at 19:30 (7:30 PM) at her 5 bedroom luxury villa at vision city, Gacuriro, Kigali, Rwanda. Ange Kagame's five bedroom luxury villa is attached with apartments for her close protection team from the presidential guard. Currently, in Rwanda, Ange Kagame is the second highest protected asset in the country after her father. Of recently, Rwanda's opposition figure – father Thomas Nahimana has been referring to Ange Kagame as the "real president" of Rwanda. He isn't far from the truth especially when you consider how dictator Paul Kagame has been living in different bunkers since late february to present.
Guests included Yolanda Makolo, a longtime specialist in insulting president Museveni and president Peter Nkurunziza (RIP) on social media. Yolanda Makolo is dictator Paul Kagame's  spokeswoman who has raised her profile through social media notoriety of insulting anyone the brutal regime deems as anti Kagame. She uses her official social media accounts or pseudo accounts in her endless attacks against different human rights activists or in the praise of her boss, dictator Paul Kagame. This congolese woman was hired for two purposes, to insult – dehumanize regime opponents and praising Kagame 24/7. Yolanda Makolo is a Congolese because her late father was 100% congolese with no single Rwandan blood. Her mother, Speciose Kayihura is Rwandan.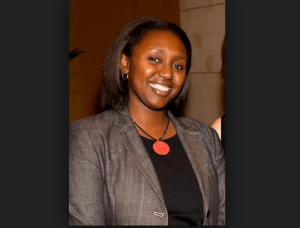 Yolanda Makolo is known for celebrating dictator Paul Kagame's assassinations perpetrated on innocent people. On 1st January 2014, after the assassination of Col Patrick Karegeya, she tweeted, "this day calls for a national celebration." And she spent weeks celebrating the crime. After the brutal assassination of a very innocent person, Kizito Mihigo, she again went berserk on twitter with all sorts celebrations. She is a supporter and staunch fan of killings committed by dictator Paul Kagame against people of the greatlakes region.
Yolanda Makolo's sister, Yvonne Makolo also attended the evil celebration. Congolese Yvonne Makolo is the current CEO of Rwandair and one of dictator Paul Kagame's side dish.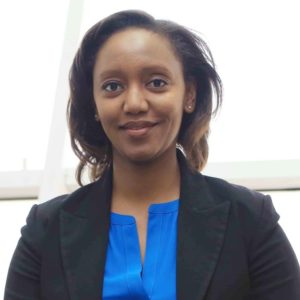 Another guest present was Stephanie Nyombayire who tags herself as the director general of communication in dictator Paul Kagame's office. Stephanie Nyombayire is another narcissistic character in dictator Paul Kagame's office. She runs different pseudo social media accounts which focuses on reactionary evil behaviours. For example, she is behind the constant dehumanization and attacks against pro democracy activist – Victoire Ingabire Umuhoza.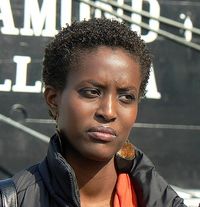 During the 2017 fraudulent presidential election in Rwanda, Stephanie Nyombayire displayed callous behaviours by leading a social media team that spent months dehumanizing pro-democracy activist Diane Rwigara and her family.
Stephanie Nyombayire's sister, Sandrine Umutoni who works as Jeannette Gasana Nzirorera Kagame's house girl (Yaya/Kadama) also attended the evil celebration. Sandrine Umutoni is the current CEO of Jeannette Gasana Nzirorera Kagame's imbuto foundation. A foundation that has been used as a channel for embezzling western donor funds and laundering of embezzled funds.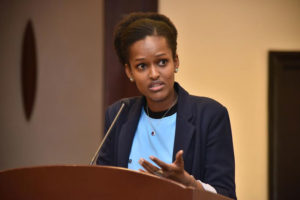 Pio Mugabo's daughters were also present in this evil celebration. In the past, I have posted on the relationship between the Kagames and Pio Mugabo's family. A relationship that started as a political pact and ended up with dictator Paul Kagame entering in bed sheets of the Mugabos.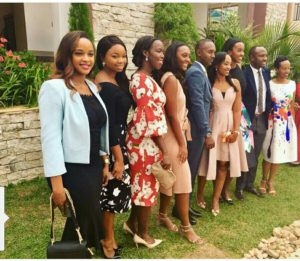 www.rpfgakwerere.org/2019/10/22/archive-rwandas-sex-maniac-criminal-paul-kagame/
While Burundians were mourning the sudden death of their leader, a pregnant Ange Kagame spent an evening with her friends celebrating the death of a person who has never harmed or intended to harm them, a person who didn't even know that they exist. For Ange Kagame, she will totally hate whatever her brutal father hates, and loves whatever her authoritarian father loves.
Ange Kagame is the real director of cabinet in the office of the president – criminal Paul Kagame. She is dictator Paul Kagame's real chief of staff, while the supposed chief of staff Urujeni Feza Bakuramutsa is a mere aid to Ange Kagame, who is currently referred within her father's office as princess from the north.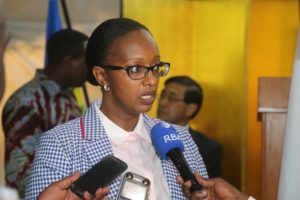 Ignore the prime minister of Rwanda, Eduard Ngirente, like previous prime ministers under criminal Paul Kagame, they never have any single power on anything, their input on policy, political, security or military is totally zero. Eduard Ngirente is merely a doll receiving a salary and other state benefits for doing nothing. The real prime ministerial powers lies in criminal Paul Kagame's office, and currently, criminal Paul Kagame's daughter is the real Prime minister of Rwanda.
Ange Kagame has more decision or leadership power than either the Chief of Defence Staff or anyone else except his father; don't be mistaken, she is ruthless and power has started feeding in her head to the extent of  starting to believing that she is next inline to replace her brutal and bloodthirsty authoritarian father – Dictator Paul Kagame.
Without any single doubt, in post dictator Paul Kagame, justice will totally hunt down those who have supported, encouraged and participated in human rights atrocities and economic crimes. Impartial justice will not be favourable to dictator Paul Kagame's numerous girlfriends, they are part of regime crimes against humanity.
————————————————————————————————————
N.B: you can follow me at – Robert Patrick Fati Gakwerere page (Facebook page), @RGakwerere (tweeter) or at my blog – rpfgakwerere.org.
However, for those in the enclave – Rwanda, the blog rpfgakwerere.org was blocked by the junta regime, it can't be accessed unless you are using VPN.