By: Rpf Gakwerere
Co Vice President – Ange Kagame's office briefed DMI controlled and managed media outlets that the National Dialogue Council (NDC) commonly known as Umushyikirano event for year 2020 won't take place. This year, the 18th edition National Dialogue Council (NDC) event was supposed to be held this Wednesday, 16th December 2020.
After being briefed by Ange Kagame's office, these DMI controlled and managed outlets rushed to inform oppressed and enslaved Rwandans how this year's National Dialogue Council event has been cancelled due to Covid 19 related issues. Within few ours of posting and publishing this information, the media outlets rushed to put down these posts which were informing Rwandans on cancellation of 2020 NDC event.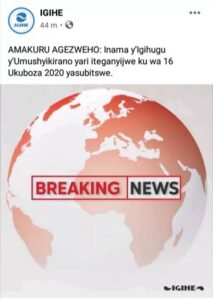 For years, it has always been the Prime Minister's Office (PMO) in charge of organising and handling communication of the National Dialogue Council (NDC) events, and today, personnel within PMO were shocked to read from various government media outlets on cancellation of the event. They didn't have any single clue about this year's cancellation. Prime Minister's Office were busy organising the event not knowing the event has actually been cancelled. According to sources, this year's event was/is supposed to be held at RPF Intare Conference Arena, Rusororo, Gasabo District.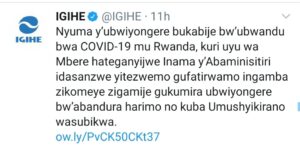 The Prime Minister's Office was taking this event as an opportunity for the country to demonstrate resilience on the face of Covid 19 challenges.
After pulling down initial posts from their various social media and websites, these DMI controlled and managed media outlets put out new posts and articles noting how the final decision in regard to this year's National Dialogue Council (NDC) will be taken during a cabinet meeting. Today, 14th December 2020, a cabinet meeting started at Village Urugwiro at around 7:00 PM Kigali time, and it was being chaired by frail and sickly criminal Paul Kagame. And according to articles and posts from DMI controlled media outlets, the decision for this year's NDC event will be decided in Today's cabinet meeting.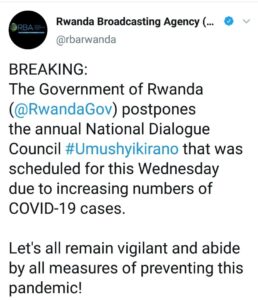 Obviously Co – Vice President Ange Kagame knows very well that National Dialogue Council (NDC) event had been cancelled. Power hungry and bloodthirsty Ange Kagame must have discussed about it with his brutal father – Paul Kagame, but she rushed to brief media outlets surpassing the usual channels of using their subjects at Prime Minister's Office to communicate on the changes.
This reminds us that decisions are always taken somewhere else, in what is known as the informal/Kitchen government, while the formal government personnel are there to rubber stamp these decisions.
If the event isn't held, it won't be because the satanic regime is following any Covid 19 precautionary advice, but because of something else including the current mental status of dictator Paul Kagame.
————————————————————————————————————
N.B: you can follow me at – Robert Patrick Fati Gakwerere page (Facebook page), @RGakwerere (tweeter) or at my blog – rpfgakwerere.org.
However, for those in the enclave – Rwanda, the blog rpfgakwerere.org was blocked by the junta regime, it can't be accessed unless you are using VPN.