Source: Key information from The Kampala Post.
On the morning of 25th December 2020, an attempt on the life of LC 5 Chairman of Lwengo was thwarted by his SFC bodyguards.
In the early hours of Christmas day as Godfrey Mutabazi was leaving his Lwengo home for Kampala, a suspected Rwandan assassin hiding in a banana plantation started firing at the LC 5 Chairman and his escorts.
His SFC escorts immediately took cover and returned fire. The assassin was forced to flee for his life. He left a bloody trail and must have been injured by bullets.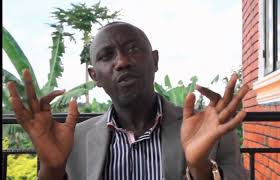 Godfrey Mutabazi has been targeted by Kigali for being a Museveni diehard and for mobilizing seriously amongst the Banyarwanda community in Lwengo for President Museveni.
Police are currently hunting for the assailant.
The incident comes after majority of incumbent district chairpersons across the country including Mr Mutabazi lost to their competitors in the just concluded National Resistance Movement (NRM) primaries.
In Lwengo , Mr Ibrahim Kitatta, the district NRM youth chairperson, defeated the district boss George Mutabazi with 31,688 votes(62.9 per cent) against the latter's 18,656 votes( 37.1 per cent).
Mr Mutabazi had earlier indicated that he will not seek re-election and also fronted Mr William Matovu Saitoti , the district speaker as his possible successor, but Mr Mutabazi later made changed his mind.
June 2017 incident at Kanombe Airport, Rwanda.
Lwengo District chairman George Mutaabazi was on 24th June 2017 ejected from RwandAir plane by Rwanda National Police officers over 'disorderly behaviour.'
After a video showing Mutaabazi's arrest went viral on social media, he (Mutaabazi) came out to explain-in another video posted on facebook- that his ejection from the plane was a case of mistaken identity.
"I happened to have travelled to Bujumbura, Burundi for a two-day conference organised by the secretary Generals' Assembly on East African Community. I travelled via Kigali, Rwanda and on my way back, I had five hours delay on transit. I walked out of the airport and I came back and checked in for my flight back to Entebbe, Uganda in time. While on the plane, there was a problem of probably mistaken identity and I was asked to get off the plane and in the process, I demanded to know why, because I would not just walk out like that," he said.
According to him, there was a scuffle and he made an alarm to attract the attention of "my fellow passengers such that if anything happened to me, they would know. I talked to security officials and they realised I had no problem and let me go. I was put on the Nairobi flight and I came back home safely."