By: Rpf Gakwerere
After the release from Prison, in September 2018, Kizito Mihigo put his trust at the hands of hyenas and these hyenas he trusted were working for serial assassin Dan Munyuza.
In Rwanda, all his trusted colleagues had been eliminated and others incarcerated, he shifted his trusts to Rwandans in diaspora, not knowing that they are worse hyenas than those inside the country.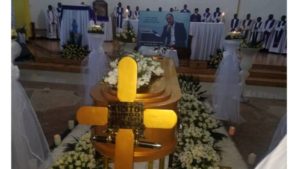 Gospel singer Kizito Mihigo stopped trusting anyone in Rwanda, he put his full trust to Rwandans in diaspora especially those who had advocated and tirelessly campaigned for his release. It's within this group of people that betrayed him through constantly feeding real time info to serial assassin Brig Gen Dan Munyuza.
According to all sources, criminal Paul Kagame's intelligence services didn't see the need to tap his phone or put surveillance on him, because the people he was talking too were all feeding the info to assassin Brig Gen Dan Munyuza. Ruthless assassin Dan Munyuza knew in advance about his escape plan, and on the day of escaping to Burundi, they were waiting for him.
Who were these bloodthirsty hyenas in diaspora that were feeding Dan Munyuza all the info about Gospel Singer Kizito Mihigo?
The decision taken by criminal Paul Kagame to give a go ahead with the brutal elimination of Gospel Singer Kizito Mihigo was based entirely on Intelligence information that these informers – hyenas were feeding assassin Brig Gen Dan Munyuza.
As I always say, trust a nyarwanda at your own peril. You would be naive to put your full trust to people who have butchered each other for a mere size of the nose or facial look. In this case, gospel singer Kizito Mihigo, a Tutsi genocide survivor, naively put his trust at the hands of nyarwanda hyenas – informers.
RIP, Kizito Mihigo.
————————————————————————————————————
N.B: you can follow me at – Robert Patrick Fati Gakwerere page (Facebook page), @RGakwerere (tweeter) or at my blog – rpfgakwerere.org.
However, for those in the enclave – Rwanda, the blog rpfgakwerere.org was blocked by the junta regime, it can't be accessed unless you are using VPN.