By: Rpf Gakwerere
Rwanda's heartless minion, Olivier Nduhungirehe, is allover the social media under different pseudo social accounts defending the harassment, intimidation and character assassination that the brutal satanic regime has unleashed against an innocent man, Christopher Kayumba.
For over a decade, Olivier Nduhungirehe is always at the forefront promoting and justifying Dictator Paul Kagame's intimidations, kidnappings, incarcerations, torture and all forms of killings. His always on social media celebrating DMI killings of innocent people. Now, his focus is on Dr Christopher Kayumba.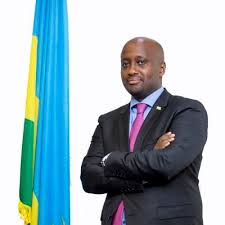 Inept Olivier Nduhungirehe obviously has forgotten that everything has an end, since the PARIPEHUTU regime that his father served and adored had an end, what about this SATANIC REGIME that his serving!
The most unfortunate thing, this grandchild of PARIPEHUTU extremist, Mzee Ngurube, is discussing and talking about someone he has no single clue about. The heartless character is just throwing around what his being fed by a ruthless Congolese woman, Yolande Makolo. I will be posting later the connection between Yolande Makolo, criminal Paul Kagame's ruthless Congolese spokeswoman and Dr Christopher Kayumba case.
His father and grandfather's regime of PARIPEHUTU was erased from Rwanda and that is how this SATANIC REGIME that Olivier Nduhungirehe serves will be sent to where it belongs, hell.
The Ngurube: A generation of characters a washed in blood of innocent Rwandans in the name of power and greed.
————————————————————————————————————
N.B: you can follow me at – Robert Patrick Fati Gakwerere page (Facebook page), @RGakwerere (tweeter) or at my blog – rpfgakwerere.org.
However, for those in the enclave – Rwanda, the blog rpfgakwerere.org was blocked by the junta regime, it can't be accessed unless you are using VPN.