By: Rpf Gakwerere.
DMI's external wing operative in Uganda, ruthless conman Frank Gashumba meets Uganda's minister of Internal Affaires Gen Jeje Odongo to discuss on issues on passports. Is Gen Jeje Odongo real?
If there is anyone who would be the last person to be invited to discuss on issues of passports should be ruthless unpatriotic conman Frank Gashumba.
Ruthless conman and Rwanda's External Intelligence operative, Frank Gashumba isn't a representative of any munyarwanda in Uganda. He doesn't even know the language. Frank Gashumba has always been a DMI representative in Uganda. And the Directorate of Military Intelligence (DMI) isn't a representation of Banyarwanda in Uganda.
Before, Uganda's Directorate of Citizenship and immigration put in place strict checks and measures on issuing of Ugandan passports, Frank Gashumba was one of many Ugandans who used to get passports for underworld mafias that included Nigerian mafias, Congolese mafias, Rwanda's DMI operatives, South Sudanese mafias…..etc, for the right price, he would even get for you a Ugandan diplomatic passport.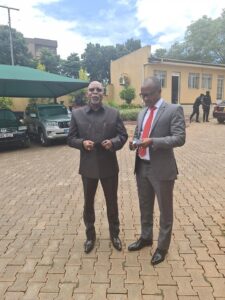 When the government moved in to close all the illegal passport trades that were taking place at Directorate of Citizenship and immigration, Frank Gashumba, the beneficiary of a previous broken system came out shouting because his illegal trade was stopped by a new reformed Directorate of Citizenship and immigration.
National Identifications and passports are properties of the state, and the state has the at-most rights to put in place screening procedures to see that the system isn't abused. And mafia like Frank Gashumba aren't happy with functioning institutions, they strive through broken and corrupt systems.
The new screening measures put in place by Uganda's Directorate of Citizenship and immigration ought to be supported at all cost, if possible strengthened and tightened.
Is Frank Gashumba a double agent like Kale Kayihura? May be, that would be the only way to explain why someone like Gen Jeje Odongo would meet a well known city conman and DMI's external intelligence operative to discuss on issues of passports.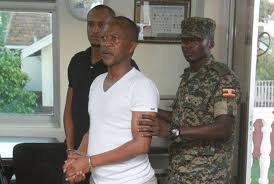 When will Jeje Odongo meet elders from West Nile because their children also face delays in getting passports due to screening of their true origins, if they aren't South Sudanese? When will Jeje Odongo meet children of NRA heroes who are finding it hard to get passports? When will Jeje Odongo meet Kadamas (those who are working in Middle East), who are finding it hard to get passports yet they have secured Kyeyo/jobs in the Middle East? When will Jeje Odongo meet Bafumbira who are being strictly screened for their passport processes?…etc.
The new strict rules put in place were meant to protect the country and its identity. The screening process weren't put in place to target any particular tribe, relation or region. Now, a tired Gen Jeje Odongo sees it right that a DMI cell in Uganda – 'abavandimwe' should be privileged over other Ugandans.
To hell with tired and satisfied officials like Jeje Odongo who have forgotten the basic aptitude of patriotism and dignity. Jeje Odongo should retire and go to enjoy his immense wealth and allow patriotic Ugandans protect Uganda at all cost. No patriotic person can entertain anyone trying to destabilise his/her country.