Criminal Paul Kagame sends his attack dog to represent the potato enclave (Rwanda) at the swearing in ceremony of President Museveni, this is a man behind most of the articles written in different DMI owned tabloids in Rwanda; articles that degrades, insults and attacks Uganda, president Museveni and his family in particular.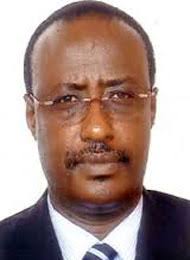 Nshuti Manasseh is behind most of the articles that are written in DMI/regime controlled tabloids in Rwanda that demeans, insults, degrade, humiliate and attack President Museveni without spearing his parents who are no longer alive. This is the man Criminal Paul Kagame has seen fit to represent his potato enclave.
Inside Rwanda, Nshuti Manasseh is known as dictator Paul Kagame's attack dog; his dirty behaviours with underage girls and his drunkenness are well known by oppressed and enslaved Rwandans.
Obviously, when your part of criminal Paul Kagame's circle, the law doesn't apply to you, his crimes will only be brought to light once he falls out with the skinny dictator.
At least 11 African heads of state arrived in Uganda Tuesday and Wednesday to witness the swearing-in ceremony of President Yoweri Museveni.
They include; Évariste Ndayishimiye (Burundi), Mohamed Abdullahi Mohamed (Somalia), Emmerson Mnangagwa (Zimbabwe), Salva Kiir (South Sudan), Hage Gottfried Geingob (Namibia) and Alpha Conde (Guinea).
Others are Sahle-Work Zewde (Federal Republic of Ethiopia), Félix Antoine Tshisekedi Tshilombo (Democratic Republic of Congo), Nana Addo Dankwa Akufo-Addo (Ghana), Samia Suluhu (Tanzania) and Uhuru Kenyatta (Kenya) who arrived at Entebbe on Wednesday.
In addition to 11 African heads of state already in Uganda; Sudanese vice president, Malik Agar Eyr, South Africa's minister of international relations and cooperation, Naledi Pandor and the executive secretary of the International Conference on the Great Lakes Region (ICGLR), João Samuel Caholo are in Uganda to attend the inauguration ceremony.