By: Robert Patrick Fati Gakwerere
Gen Katumba Wamala has just survived an assassination attempt after 4 armed assailants riding on 2 black motorbikes sprayed bullets at his convoy, according to eye witnesses. He was riding with the daughter, driver and bodyguard.
The driver and Gen Katumba Wamala's daughter, Brenda Wamala have been confirmed dead, Gen. Katumba has been rushed to the hospital.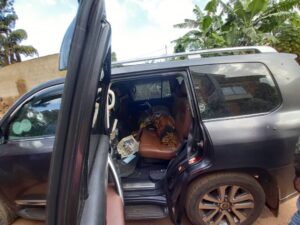 Without any single doubt, this dark operation was conducted by Potato enclave's Directorate of Military Intelligence. This assassination attempt has a hallmark of Potato enclave's Directorate of Military Intelligence, and their well known play book of creating anarchy and chaos.
This is the same modus operandi used by Potato enclave's DMI assassins in previous elimination hits in Uganda. For example, Rwanda's Directorate of Military Intelligence used their cells in Uganda to eliminate AIGP Andrew Felix Kaweesi on 17th March 2017, Col Ibrahim Abiriga on 8th June 2018, and police commander Muhammad Kirumira on 8th September 2018.
All these Senior cadres were killed by Rwanda's Directorate of Military Intelligence cells in Uganda, these DMI Kawukumi (jiggers) used similar modus operandi as in today's assassination attempt on Gen Katumba Wamala. They were assassinated by hit men/women on motorbikes.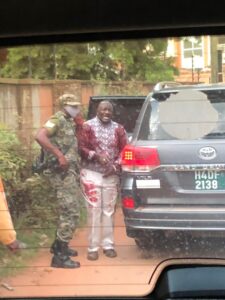 For year, the main aim of criminal Paul Kagame and his satanic regime, its to cause anarchy in Uganda.
Those who wanted to eliminate Gen Katumba Wamala had clearly two aims, to create tribal division among Ugandans and chaos. And who would want Chaos and anarchy in Uganda? And who has such capabilities to stage such an assassination attempt on an individual who is well protected.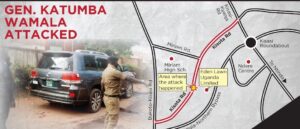 In Burundi, after the 2015 failed coup d'etat against the former president of Burundi Peter Nkurunziza, a coup d'etat that was planned, logically supported and orchestrated by criminal Paul Kagame; Rwanda's Directorate of Military Intelligence went on a campaign of assassinating Burundi's patriotic military officers, and the same modus operandi that is being used in Uganda. Case study, the brutal assassination of Burundi's former security enforcer, Lt Gen Adolphe Nshimirimana on 2nd August 2015.
Stay tuned…