By: Rpf Gakwerere
Early this month, Co – Vice-President Ange Kagame and the family of Jeannette Nzirorera Kajuga Gasana Kagame (Murefu family) attended a wedding ceremony of a family member. Number of attendants exceeded 50 guests, and no one was arrested for flouting Covid-19 rules.
Earlier today, despite following social distance rules, Rwanda's well renown traditional singer Cecile Kayirebwa was among 50 guests arrested at a wedding ceremony for flouting Covid-19 rules and regulations.
In April of last month, two senior military officers, Gen Fred Ibingira and Lt Gen Charles Muhire were arrested under the pretext of flouting Covid 19 rules and regulations. Up to now, they are still locked up at Mulindi military detention, a well known notorious dungeon.
Photos below demonstrates selective justice under Criminal Paul Kagame's satanic regime: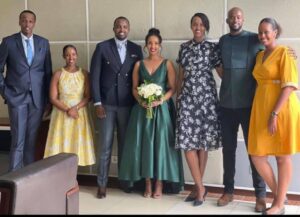 Land owners vs Oppressed and enslaved Rwandans. The Kagames enjoying the wedding, while Traditional Singer Cecile Kayirebwa et al. being humiliated in handcuffs.