By: Rpf Gakwerere
Serial Assassin Brig Gen Dan Munyuza, "I am not a killer and I have never committed any human rights atrocities. Me, as Dan Munyuza, I have never and never committed any single crime. All that I have done, I have done them in the name of the state not as Dan Munyuza. I have been sidelined two times, and during those times, I have never interfered with anyone, because I am not working for the state. Another point, there is nothing, totally nothing I have ever done without the approval and instructions from above. I have never been a decision maker in human rights abuses that they attribute me too. I receive instructions from above and pass instructions to others. I am merely a medium of communication. In front of an impartial justice, I would be exonerated of bigger crimes that most people usually attribute me too."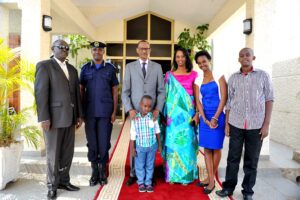 Serial Assassin Brig Gen Dan Munyuza's cry to a close relative, when a relative asked the cold blooded killer if he ever thinks of tomorrow and the legacy that he will leave behind for his three lovely children. This conversation took place after the brutal assassination of Lt Gen Jacques Musemakweli.
Serial assassin further told this relative, "yes, tomorrow I can be eliminated for knowing too much, but not for betraying the state or his excellency."
Dear oppressed, enslaved, starving and unemployed Rwandans; your serial assassin killer Dan Munyuza portrays himself as an angel, that all the human rights crimes you attach him too, have all been committed in the name of the state and orders from above. You should ask the state or criminal Paul Kagame but not him. Otherwise, his an angel and heartedly loves human beings.
Dan Munyuza knows very well that any time he can be deleted merely for knowing too much of criminal Paul Kagame's crimes.
———————————————————————————————————–
N.B: you can follow me at – Robert Patrick Fati Gakwerere page (Facebook page), @RGakwerere (tweeter) https://twitter.com/RGakwerere?s=08 or at my blog – rpfgakwerere.org.
However, for those in the enclave – Rwanda, the blog rpfgakwerere.org was blocked by the junta regime, it can't be accessed unless you are using VPN.