By: Robert Patrick Fati Gakwerere
At the end of April 2021, Counsel Bukuru Ntwali was summoned by Rwanda's well known notorious assassin CP Egide Ruzigamanzi, head of crime Intelligence within Criminal Paul Kagame's bloodthirsty police. They met at Metropolitan Police in Remera, Kigali, and Counsel Bukuru Ntwali spent nearly 3 hours being questioned on funds that he was always receiving from diaspora, how he was sending these funds to DR Congo and to who.
According to my sources, in May 2021, he was summoned two times, on 20th May 2021 and on 27th May 2021. On these two occasions, CP Egide Ruzigamanzi spent hours asking him about funds from diaspora, certain Banyamulenge individuals who live in diaspora and Minembwe. The questions surrounded funds, certain Banyamulenge personalities and his political ideology vis a vis issues of Banyamulenge. These were the main causes of his brutal assassination at the hands of criminal Paul Kagame's bloodthirsty assassins.
It should be noted that CP Egide Ruzigamanzi's operation office is located in Gikondo, at Transit Center Gikondo, formerly known "Kwa Gacinya." This is where he tortures innocent citizens. The serial assassin has also a diversion office at Police Headquarter in Kacyiru, Rwanda.
After Brig General Gacinya Rugumya being forced into retirement, Gikondo Transit Center, a well known torture centre was put under Police's agencies, its now the operation headquarter of crime Intelligence and counter terrorism units, headed by CP Egide Ruzigamanzi and CP Denis Basabose, respectively.
According to sources, on 2nd June 21, Counsel Bukuru Ntwali left home going to meet someone at Nyabugogo Bus Terminal, this person had called him in the early hours of morning, and this indindividual was supposed to be travelling to Rubavu, Rwanda. Counsel Bukuru Ntwari left home going to meet this individual.
Counsel Bukuru Ntwari was a trusted elder among Banyamulenge in Rwanda, on daily basis he would be approached by all sorts of Banyamulenge for advice, guidance and any other form of support. He was always out to meet people from his community, and on this fateful day, he left his home going to meet someone but he didn't know that it was an assassination trap.
After being eliminated, as usual, the satanic regime cameout with the line that oppressed and enslaved Rwandans are familiar with, "committed suicide." Rwanda Police – Rwanda Investigation Bureau (RIB) released a statement saying Counsel Bukuru Ntwali had committed suicide.
According to information I have from two trusted sources, Rwanda's Directorate of Military Intelligence (DM) has an operation outpost at Inkundamahoro commercial complex, on fourth floor, at Nyabugogo Bus Terminal. This DMI outpost, dubbed business offices, are used as operation points in surveillance of Nyabugogo Bus Terminal, surveilling individuals running businesses around Nyabugogo Bus Terminal and waves of passengers that use this bus terminal.
One of my source noted, "fourth floor of this building is manned by businesses attached to DMI's special operation branch. Nyabugogo Bus Terminal is full of activities, and these activities have to be under surveillance. The 4th floor of that building is occupied by J2 attached businesses. Have you ever bothered to inquire who owns petrol stations around Nyabugogo Bus Terminal? Then you will understand the level of human intelligence deployment around Nyabugogo Bus Terminal.
Due to different social media pointing out that the satanic regime had assassinated Counsel Bukuru Ntwali, in trying to shift public opinion that they have nothing to do with his death. Criminal Paul Kagame's inept intelligence services released a CCTV video that totally showed nothing.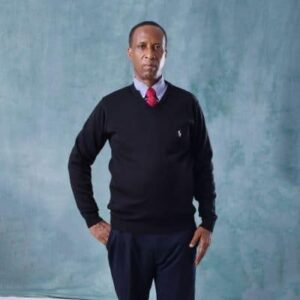 In the CCTV video released by DMI through their media outlets:
1) The CCTV video showed a well dressed Counsel Bukuru Ntwali, with a face mask and a bottle of water entering Inkundamahoro commercial complex in Nyabugogo Bus Terminal. Why would a suicidal person wear a face cover well knowing that his on his way to commit suicide? Why would Counsel Bukuru Ntwali protect himself from Covid-19 up to the last day/minute? Clearly, Bukuru Ntwali wasn't going to commit suicide, he was entering the building to meet someone.
Counsel Bukuru Ntwali had a bottle of water in his hand, and this was early hours of morning. This was a man who was following health diet of taking water in the morning. He wasn't going to commit suicide.
2) The CCTV video showed Counsel Bukuru Ntwali on ground floor asking for direction. Since when does someone go to commit suicide in spot that isn't familiar with? Counsel Bukuru Ntwali was going to meet someone in this building, and he was asking for direction.
3) The CCTV video shows Counsel Bukuru Ntwali emerging on the second floor looking around. Here, they avoid to show any clip from 360 degree CCTV Cameras that are installed in each floor of this building, but rather a cut clip from a CCTV that monitors stair entry.
4) On the third floor and 4th floor, the clip released by criminal Paul Kagame's Directorate of Military Intelligence shows again Counsel Bukuru Ntwali entering the third floor and later emerging on the fourth floor. In these two floors they showed cut CCTV clips that monitor entries.
5) On the 2rd and 3rd Floor, the commentator – Roger Marc Rutindukanamurego, a well known operative who reports directly to serial assassin Brig Gen Dan Munyuza narrates how Counsel Bukuru Ntwali went up to corridor barriers of these floors and wanted to commit suicide through jumping down, but realised he couldn't die and decided to go on the higher floor – 4th floor. But the CCTV clip released by DMI, no where they showed Counsel Bukuru Ntwali approaching the barriers, they only showed him emerging on each floor. This building has 360 degree CCTV cameras on each floor, and these cameras record end to end of each floor. Why didn't DMI through RIB release their footage?
6) The family of Counsel Bukuru Ntwali will never receive his phone, his phone has all the clues to his cold blooded murder, and the mobile handset was taken by those who assassinated him.
Counsel Bukuru Ntwali's lifeless body was thrown from the fourth floor without his mobile handset, his mobile phone had a lot of information critical to their drive to crash Banyamulenge, and DMI didn't make a mistake of throwing this mobile handset alongside Bukuru Ntwali.
7) Rwanda's Directorate of Military Intelligence (DMI) through Rwanda Investigation Bureau (RIB) told oppressed Rwandans how Bukuru Ntwali jumped from the fourth floor of this building – Inkundamahoro commercial complex. However, in the CCTV clip released by DMI, nothing to suggest he committed suicide. Counsel Bukuru Ntwari was strangled by DMI operatives on the fourth floor of this complex and then thrown down.
7) Criminal Paul Kagame, Brig Gen Vincent Nyakarundi, Brig Gen Dan Munyuza, Col Jeannot Ruhunga, CP Egide Ruzigamanzi and CP Denis Basabose are all responsible for the brutal assassination of Counsel Bukuru Ntwali. Without any single doubt, these killers who have built their career through killing will one day face the law. Blood of innocent people will definitely be a curse to them, their children, and their descendants.