By: Rpf Gakwerere
Last night, criminal Paul Kagame's militia army, the RDF made an incursion into Uganda, in Butanda sub county, Kabale District. Unlike other past incursions where they would enter and kidnap innocent Ugandans, this time around they met stiff resistance from locals who used stones and extreme noises to chase them away. And one RDF soldier was Captured by the locals.
The captured soldier is Private Ndagizimana of service number 112574, of Alpha Task force of 17th Batallion, 501 Brigade, in Nyamicucu Barracks Burera district, Northern Rwanda. Rwanda's 501 Brigade is under the 2nd military Division currently under Brig Gen Jean Bosco Rutikanga.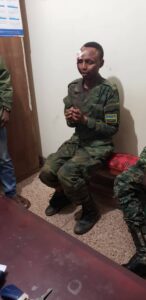 Since 2019, criminal Paul Kagame's second division, that operates in Rwanda's North east region has been involved in numerous killings and kidnapping of Ugandans who live along the border, we have all witnessed caskets with remains of executed Ugandans being sent back to Uganda by Criminal Paul Kagame's officials.
———————————————————————————————————–
N.B: you can follow me at – Robert Patrick Fati Gakwerere page (Facebook page), @RGakwerere (tweeter) https://twitter.com/RGakwerere?s=08 or at my blog – rpfgakwerere.org.
However, for those in the enclave – Rwanda, the blog rpfgakwerere.org was blocked by the junta regime, it can't be accessed unless you are using VPN.