BY: RPF GAKWERERE
In April 2008, While working as Monitor correspondant In Kigali, Rwanda, journalist Robert Mukombozi was given five minutes to leave Rwandan territory and his Ugandan passport stamped "PNG" or Persona Non Grata and deported back to Uganda by Criminal Paul Kagame's brutal regime.
Last night, 1st April 2021, on direct orders of Uganda's Prince and assumed owner of Uganda – Muhoozi Kainerugaba; Australian based journalist Robert Mukombozi was declared a Persona Non Grata in Uganda, and deported to Australia for what the owner of Uganda – Muhoozi Kainerugaba referred, "a person who is against my uncle, Paul Kagame."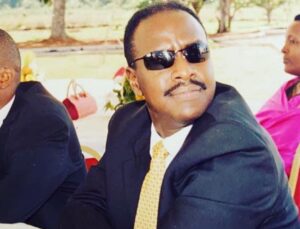 My simple questions:
1) Between Muhoozi Kainerugaba and Robert Mukombozi who is more Ugandan in terms of ancestral background?
2) In April 2008 Rwanda declared journalist Robert Mukombozi a Persona Non Grata, and on 1st April 2022 Muhoozi Kainerugaba declared Robert Mukombozi a Persona Non Grata. Criminal Paul Kagame and Muhoozi Kainerugaba have both denied him his ancestral origin. What are ancestral origins of Journalist Robert Mukombozi, looking at his 4 grand parents?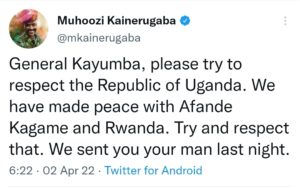 3) Who gave powers to Muhoozi Kainerugaba to award or strip off citizenship of Ugandans, especially those with ancestral heritage to the country? Since when did Muhoozi Kainerugaba become Uganda courts – Judiciary to determine who should be stripped his/her citizenship?
4) What crime did Australian best journalist, Robert Mukombozi commit on Ugandan soil? I hope the new owner of Uganda, Muhoozi Kainerugaba will tell his keen followers. Or he merely wants to appease his uncle, bloodthirsty killer – criminal Paul Kagame.
5) Will Muhoozi Kainerugaba move to the next stage, and return to his past behaviours during double agent Kale Kayihura's era where he was a participant in all human rights atrocities against Rwandan refugees?
6) Does Muhoozi Kainerugaba think his uncle, criminal Paul Kagame will be a key factor to his ascending to power?
7) Will any Ugandan who says A, B or C about Criminal Paul Kagame will he be an automatic enemy of Uganda? Muhoozi Kainerugaba needs to table a bill to the parliament stopping Ugandans from debating, discussing or criticizing Criminal Paul Kagame.
8 Was journalist Robert Mukombozi in Uganda to visit his numerous relatives or he was in Uganda under the instructions of Kayumba Nyamwasa as Muhoozi Kainerugaba states on his twitter?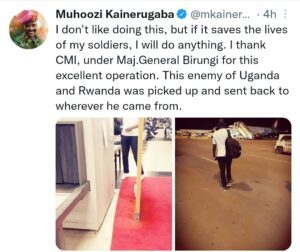 9) Will Muhoozi Kainerugaba go after anyone who knows Gen Kayumba Nyamwasa? Appeasing Uncle!
* Did Muhoozi Kainerugaba bother to know that Robert Mukombozi had come to visit his sickly parents?
10) Is Muhoozi Kainerugaba the President of Uganda? Is there a Palace coup that we don't know about? Are we already in 2026? Obviously, in 2026, he won't be on the ballot ticket, senior commander is back, just ignore excitement of his young goons.
By: Rpf Gakwerere, a military corporal for more than three decades, but currently being hunted by an LDU operative with "Lt General" pips in his shoulder. Let me report him to his father, my president, that his LDU operative son wants my head on behalf of  his uncle, Kagosi Owembwa – Paul Kagame.
———————————————————————————————————–
N.B: you can follow me at – Robert Patrick Fati Gakwerere page (Facebook page), @RGakwerere (tweeter) https://twitter.com/RGakwerere?s=08 or at my blog – rpfgakwerere.org.
However, for those in the enclave – Rwanda, the blog rpfgakwerere.org was blocked by the junta regime, it can't be accessed unless you are using VPN.