By: Rpf Gakwerere
In Kampala – Uganda, a meeting between Uganda and Rwanda that should have taken place on October 17 as a follow up to the September 16 one in Kigali to ease tension between the neighbouring countries took place yesterday, 13 Dec 19.
The meetings were meant to fast-track the implementation of an agreement signed in August 19, by criminal Paul Kagame and President Museveni in Angola, to end two-year long hostilities between the two neighbouring countries.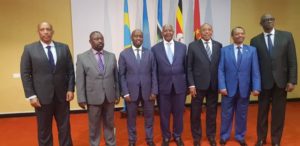 The border has been closed since late February, and Rwanda stopped its citizens from crossing into Uganda and restricted the entry of Ugandan goods into the country.
The Kampala meeting was held at Speke Resort Munyonyo, and delegations from Angola and DR Congo who are the facilitators to the Luanda MoU attended the meeting.
The meeting was facilitated by Angola's Foreign minister, Manuel Domingos Augusto, and DR Congo Deputy Prime Minister and Minister for Interior, Security, and Customary Affairs, Gilbert Kakonde Malamba.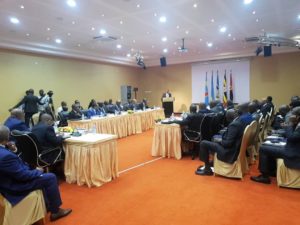 According to sources who attended the meeting, there was sharp disagreement between Uganda and potato enclave (Rwanda) delegations on issues of border closure, spying/espionage, interferences on internal matters, Killing of Ugandans by Rwanda's security agents at the border between these countries…etc.
The meeting on the implementation of Luanda MoU ended with both parties not agreeing on anything. After 8 hours of the meeting, delegations from Rwanda and Uganda failed to agree on a joint communique following the end of the meeting.