Rwanda's Chief of deadly Directorate of Military Intelligence, recently rebranded as Defence Intelligence, Brig Gen Vincent Nyakarundi is in town.
Since Tuesday, 10th May 2022 to today, 12th May 2022, Criminal Paul Kagame's assassins have been in Uganda. In his visit to Uganda, the head of DMI, bloodthirsty assassin Brig Gen Vincent Nyakarundi came with Lt Col David Nsangani and Col Ronald Rwivanga who is known within Criminal Paul Kagame's security services as a characterless individual, full of intrigues, lies and always reporting fellow military officers.
In the photo below, there is Col James Burabyo, Rwanda's military attaché to Uganda, a well known human rights abuser, a purified killer.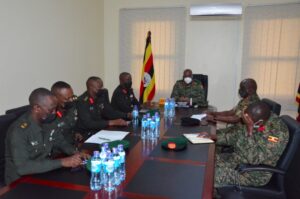 The photos were taken when Criminal Paul Kagame's killers paid a courtesy visit to Muhoozi Kainerugaba.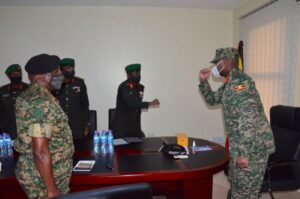 GET READY FOR KIDNAPPINGS AND ASSASSINATIONS OF INNOCENT PEOPLE IN THE STREETS OF UGANDA.
By: Rpf Gakwerere, a military corporal for more than three decades.
———————————————————————————————————–
N.B: you can follow me at – Robert Patrick Fati Gakwerere page (Facebook page), @RGakwerere (tweeter) https://twitter.com/RGakwerere?s=08 or at my blog – rpfgakwerere.org.
However, for those in the enclave – Rwanda, the blog rpfgakwerere.org was blocked by the junta regime, it can't be accessed unless you are using VPN.