Warning: Graphic video
Clearly depicts continued Israeli firing after Shireen Abu Akleh went down. Screams of "Ambulance". One man tries to retrieve Shireen, others scream at him to move back from Israeli sniper range.
Other journalist in video, Shatha Hanaysha, is paralyzed with fear and can't reach Shireen bc of the sniper.
"I couldn't even extend my arm to pull her because of the shots," Hanaysha said. "The one that killed her intended to bc he shot at area of body that was not protected."
Veteran Al Jazeera journalist Shireen Abu Akleh was assassinated by Israeli forces while reporting in Jenin in the occupied West Bank.
In a statement, Al Jazeera Media Network condemned the "blatant murder" that violates "international laws and norms" and called Abu Akleh's death a "heinous crime, through which it is intended to prevent the media from fulfilling its message".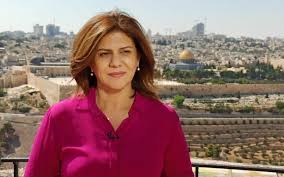 "We hold the Israeli government and the occupation forces responsible for the killing of the late colleague Shireen," the statement said.
Al Jazeera called on the international community to hold the Israeli occupation forces accountable for their "intentional targeting and killing" of Abu Akleh.