By: RPF Gakwerere
Oppressed, enslaved, starving and unemployed Rwandans now know that Rwanda's deadly Directorate of Military Intelligence recently rebranded as Defence Intelligence is an exclusive club of Burundian born Rwandans. Initially, DMI was exclusively controlled and manned by operatives who were born in Uganda, but as Criminal Paul Kagame shifted his trust to Burundian born security personnel; his presidential guard, DMI and Spacial Forces have finally turned into exclusive apparatuses for Burundian born Rwandans.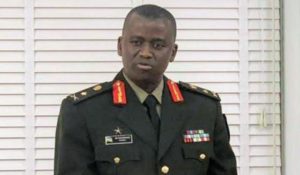 All former Directorate of Military Intelligence (DMI/J2) Commanders/chiefs where born in Uganda. But in September 2019, Criminal Paul Kagame appointed Ruthless Brig Gen Vincent Nyakarundi with an exclusive mandate to restructure, clean and rebuild the deadly organisation around security personnel who were born from Burundi. Brig Gen Gen Vincent Nyakarundi was also born, raised and educated in Burundi.
These Burundian born boys and girls are extremely good at creating ear catching codes, now in DMI there are new operation codes. For example, there are new social codes to refer a Tutsi or a Hutu.
A new social code to refer people who were born or grew in Uganda is being used, the Sajya or Sebbo codes are only used by oppressed wanainchi, these boys from Burundi who are exclusively running and managing deadly DMI have a new code name they are using. However, they haven't created new social code names for Sopecya (those born in Rwanda), Dubai (those born in DR Congo), GP (those born in Burundi), Mu Swahili (those born in TZ); trust they will get new name codes for them.
What does DESPERADO mean in Rwanda's DMI? A deadly organisation that currently is exclusively run by Burundian born Rwandans.
Soon, I will be touching on this term, DESPERADO.