By: Rpf Gakwerere
Since yesterday, 7th November 2022, to midday today, 8th November 2022, DR Congo army – FARDC's airforce started bombarding RDF – M23's logistic supply routes and ammunition depots along Musogati, Cyanzu and Runyoni using their newly acquired Russian made Sukhoi-25 fighter jets. RDF-M23 usually refers to this logistics and operation military route as  Sabyinyo axis.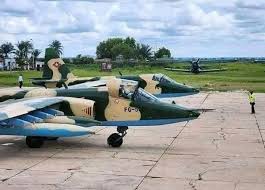 Congolese fighter planes bombed RDF-M23 positions in the east of the country, causing people to flee into neighbouring Uganda.
A rebel spokesman Maj Willy Ngoma said the jets deliberately targeted civilian settlements around Sabyinyo volcano. But FARDC denied this accusation saying they are hitting military installations and rebel logistics supply routes.
Meanwhile, DR Congo continues to point Rwanda of being the architecture, planner and invaders in Eastern DR Congo, and of Rwanda seizing a significant territory in North Kivu province – DR Congo in recent months.
Aid groups say tens of thousands of people have fled to camps near the regional capital Goma following the upsurge in fighting.
———————————————————————————————————–
N.B: you can follow me at – Robert Patrick Fati Gakwerere page (Facebook page), @RGakwerere (tweeter),  https://twitter.com/RGakwerere?s=08 or at my blog – rpfgakwerere.org.
However, for those in the enclave – Rwanda, the blog rpfgakwerere.org was blocked by the junta regime, it can't be accessed unless you are using VPN.