By: Rpf Gakwerere
Now that children of assassinated RPF/A heroes have started speaking on how criminal Paul Kagame eliminated their respective parents, then know Criminal Paul Kagame is approaching his end. The fall of brutal oppressive regimes always starts with internal cracks, internal intrigues are tearing apart criminal Paul Kagame's bloodthirsty system. It just a matter of time.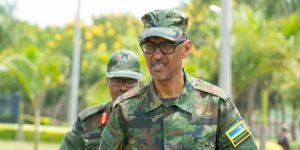 Dear oppressed and enslaved Rwandans, the satanic system is at its end, just one move remaining. Keep on smartly following what is happening within the satanic regime.
The anti Kagame struggle welcomes youthful, Lt Gerald Rubagumya Tindifa, son of Lt Col Ngumbayingwe, second in command of the Rwanda Patriotic Army's 7th Battalion. The young man was incarcerated, and when released, he survived three poison assassination traps on his life, and up to a day he escaped from Criminal Paul Kagame's land, DMI was still orchestrating a clean and quiet assassination on the young man's life.
Since February 2020 when he escaped from Criminal Paul Kagame's land – Rwanda, to present day, Rwanda's Directorate of Military Intelligence has been trying to track him for elimination with zero success.
Lt Gerald Rubagumya Tindifa's father, the charismatic, friendly and handsome Lt Col Ngumbayingwe was brutally assassinated in May 1994 by DMI operatives within the 7th Battalion. Lt Col Nathan Ngumbayingwe was eliminated in the same style as Gen Fred Rwigema. It was the same modus operandi.
The reason for brutally assassinating the commander – Lt Col Nathan Ngumbayingwe, was his courage to question criminal Paul Kagame's instructions during 1994 offensive, especially instructions that bloodthirsty Kagame was giving 7th battalion through his house boy aid Lt Col James Kabarebe. Treacherous assassin James Kabarebe played a big role in the assassination of Lt Col Nathan Ngumbayingwe.