By: Australian Human Rights Institute
Human rights advocate Noël Yandamutso Zihabamwe has addressed a session of the UN Working Group on Enforced or Involuntary Disappearances to provide an update on the disappearance of his brothers in Rwanda in 2019.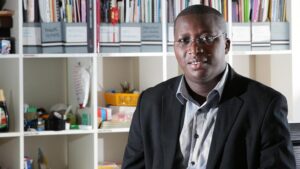 Mr Zihabamwe filed a complaint to the Group in 2021 regarding the abduction of his two brothers, Jean Nsengimana and Antoine Zihabamwe, as well as an urgent update and reprisals complaint made directly to the UN Assistant Secretary for Human Rights following harassment from the Rwandan Government and its representatives.
"Since my complaint was submitted to the Working Group, more than 200 families have contacted me in relation to their own family and friends who have been harassed or have disappeared in Rwanda," Mr Zihabamwe said.
"The vast majority of these disappearances in Rwanda are never brought to international attention. Rwandan families suffer in silence."
Leading human rights barrister Jennifer Robinson of Doughty Street Chambers, London welcomed the opportunity to address the Working Group, so that the UN experts can hear directly from Mr Zihabamwe about his brothers' disappearances and the impact it has had on their family.
"We are grateful to the Working Group for their positive engagement on Jean and Antoine's disappearance. It was important for the UN experts to hear Mr Zihabamwe's brave and powerful testimony about how his brothers' enforced disappearance has affected their family," Ms Robinson said.
"The Zihabamwe family's case is emblematic of the broader problem of enforced disappearances in Rwanda and the targeting of dissidents inside and outside of the country. We urge the UN to raise the matter with the Rwandan Government and to continue to assist the Zihabamwe family to seek truth and justice.
"We will continue to liaise with the Working Group to ensure that they can continue to pursue Mr Zihabamwe's complaint against Rwanda."
Director of the Australian Human Rights Institute, Professor Justine Nolan, said these disappearances are a systematic issue in Rwanda.
"Just last week, more than 100 authors from around the world wrote to President Kagame about the case of a Rwandan poet named Innocent Bahati, who disappeared on February 7, 2021," Professor Nolan said.
"Rarely does a case in Rwanda trigger such an international outcry but every case, every individual counts and accountability must follow."
Since the initial complaint filing, Mr Zihabamwe and his missing brothers' friends and relatives in Rwanda have experienced intimidation by Rwandan government officials. There has also been a smear campaign by Rwandan media organisations against Mr Zihabamwe, falsely alleging in a number of published articles that he is affiliated with opposition groups and a "terrorist organisation" known as the Rwanda Alliance for National Pact (RANP).
In addition to filing the complaint, Australian police have been alerted to the incidences of reprisals, along with the Australian Minister for Foreign Affairs and the Australian Department of Foreign Affairs and Trade.