By: Robert Patrick Fati Gakwerere
11th November 2022, at Urugwiro Village, Kigali, Rwanda, Criminal Paul Kagame received the President of Angola and Chair of the International Conference on the Great Lakes Region (ICGLR), His Excellency João Lourenço who has visited Rwanda's brutal criminal to discuss on RDF – M23 invasion of Eastern DR Congo.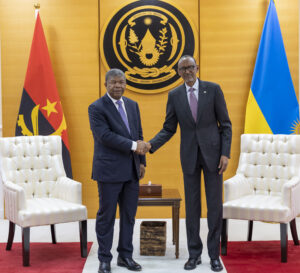 All these manoeuvres are a waste of time and resources of taxpayers' money. Since 1996 to present, such waste of time hypocritical diplomatic manoeuvres have been taking place, and they sometimes lead to signing of peace agreements, i.e the April 2003 Sun City Agreement in South Africa. But this peace agreement didn't stop the insecurity in eastern DR Congo to continue with sheer brutality.
As long as Criminal Paul Kagame is still the ruler of Rwanda, eastern DR Congo and the Greatlakes region as a whole will never, never and never taste any peace. Criminal Paul Kagame is the main key factor on the insecurity that has raged the Greatlakes region since 1996 to present. Minus this factor, peace can prevail in the Greatlakes region.
———————————————————————————————————–
N.B: you can follow me at – Robert Patrick Fati Gakwerere page (Facebook page), @RGakwerere (tweeter),  https://twitter.com/RGakwerere?s=08 or at my blog – rpfgakwerere.org.
However, for those in the enclave – Rwanda, the blog rpfgakwerere.org was blocked by the junta regime, it can't be accessed unless you are using VPN.