By: Robert Patrick Fati Gakwerere
These dangerous Directorate of Military Intelligence operatives in Uganda are totally and totally dangerous to the core. After failing to operate under the cover of a DMI initiated organ called "ABAVANDIMWE," now they have penetrated and decided to grab the MK supporter initiative (Known as MK army), that was started in early 2015 by genuine young supporters of Baby General, Muhoozi Kainerugaba.
Now, well known Kagamist DMI operatives in Kampala have grabbed this initiative that was started by young men and women as far as 2015. These were young men and women who didn't start this initiative for the money or any other interests, but for their genuine love for Baby General and their belief that the NRM should continue through Baby General – Muhoozi Kainerugaba leadership.
In 2015, through the invitation of a nephew, I attended one of their meeting when they were brainstorming this idea. I was impressed to see young boys and girls being engaged on national issues.
Now, comes 2022, the initiative that was started by young boys and girls who had just completed their education from different Universities has been hijacked by dangerous DMI operatives, who have joined this movement not because of genuine love and belief for Baby General – Muhoozi Kainerugaba, but rather, as intelligence operation cover to protect their illegal activities in a sovereign country – Uganda.
Now, DMI boy Frank Gashumba and notorious DMI operative Lawrence Muganga are senior committee members of MK supporter group, under an election organised by Frank Gashumba and Balaam.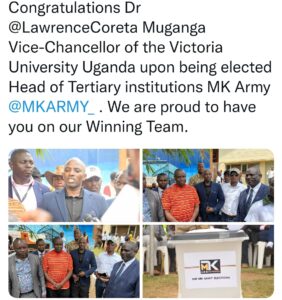 Questions you should ask yourselves: When did Frank Gashumba and Lawrence Muganga join MK army? I know the answer. Why this abrupt committee election? I know the answer. Why are the founders of this initiative all pushed aside, as DMI's abavandimwe terror cell takes Center stage of this pressure group? Do Frank Gashumba and Lawrence Muganga genuinely love Baby General, or they are operating under external instructions? Organisers of this committee election were also candidates of this grabbing of an initiative which was started by genuine young boys and girls.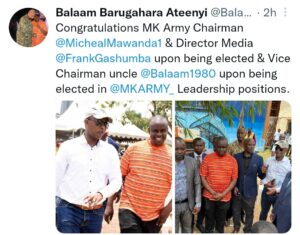 Don't forget, Frank Gashumba's best friend, notorious Major General Frank Mugambage currently heads Uganda desk within Rwanda's external intelligence. The former ambassador of Rwanda to Uganda – Frank Mugambage is also the head of Criminal Paul Kagame's reserve force.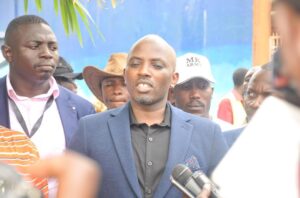 Despite my criticism to Baby General Muhoozi Kainerugaba, none of his supporter has come to insult, threaten or intimidate. They are well discipline batch of boys and girls, and wouldn't love the work of these discipline boys and girls being hijacked by crooks, greedy – immoral characters and notorious DMI assassins. I would have loved to see patriots and nationalists at the helm of Muhoozi Kainerugaba supporter group, but not crooks, greedy – immoral characters and notorious DMI assassins.
As someone born in NRM, grew up in NRM and extreme supporter of NRM, I believe in NRM secretariat and NRM party institutions, and it's through NRM that succession should be discussed and decided. However, everyone has the rights to discuss and debate on succession. But don't forget, Mzee Jjaja Museveni is back in 2026.
———————————————————————————————————–
N.B: you can follow me at – Robert Patrick Fati Gakwerere page (Facebook page), @RGakwerere (tweeter),  https://twitter.com/RGakwerere?s=08 or at my blog – rpfgakwerere.org.
However, for those in the enclave – Rwanda, the blog rpfgakwerere.org was blocked by the junta regime, it can't be accessed unless you are using VPN.