Robert Patrick Fati Gakwerere
Several official sources have confirmed the death of DR Congo's Member of Parliament and former Minister of Transport and communication, who disappeared yesterday, 12th July 23. Member of Parliament Chérubin Okende Senga was a close associate to DR Congo's opposition leader Moïse Katumbi.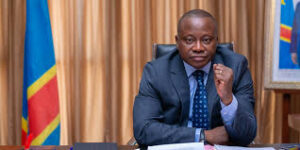 His lifeless body was found inside his jeep, and the body had marks of strangulation, bullets and soaked in blood from bullets.
Video shared on social media on Thursday purported to show the bullet-ridden body of Chérubin Okende slumped inside his car in the capital, Kinshasa.
Chérubin Okende Senga was a member of the party of Moise Katumbi, a leading opposition politician who is set to contest the presidential election in December.
"It's a political assassination," Katumbi told French radio broadcaster RFI, without elaborating. "They want to reduce us to silence," he said, calling for independent investigations into what he described as an "odious crime".
Katumbi's party, Ensemble pour la Republique, said Okende was kidnapped from the parking lot of the Constitutional Court in Kinshasa. A source close to Okende told Reuters news agency the politician had just dropped off a letter in response to a court summons.
His body was subsequently found in his car on one of the capital's main thoroughfares, an official from the party said.
The presidency said Okende had died in "tragic circumstances" and it urged an investigation to "shed full light on the matter and punish those responsible for this despicable act".
Government spokesman Patrick Muyaya likewise tweeted that "the government was shocked to learn of the assassination" and that it had ordered a probe.
Okende resigned from the government at the end of December when Katumbi left the ruling coalition and announced his intention to run against President Felix Tshisekedi, who came to office in January 2019.
This is Criminal Paul Kagame's mondus operandi of disorganising and tarnishing images of governments they don't like. This scenario and those to come during DR Congo's elections will be aimed at instability discourse.
On 10th June 2023, we warned that criminal Paul Kagame will plunge Kinshasa into floods of assassinations aimed at undermining Kinshasa government. The brutal assassination of member of Parliament Chérubin Okende has hallmarks of Criminal Paul Kagame's mondus operandi of destabilising, undermining and destroying image of government(s) he doesn't like or wants gone.
In my 10th of June 2023 tweet, I noted, "Considering Criminal Paul Kagame's modus operandi, the covert operations in Kinshasa will involve assassinations of key figures, create insecurity, sabotage, intercept and hack military communication system, hit opposition figures and disseminate the blame on President Tshisekedi." As general elections approaches in DR Congo, assassinations and killings aimed at undermining and tarnishing the image of President Felix Tshisekedi government will increase.
In the same tweet of 10th June 2023, I noted, "There are high traffic aboard Rwandair route btn Kigali – Brazzaville, and these are Directorate of Military Intelligence operatives travelling to Brazzaville. DMI operatives who were deployed in SADC are being relocated to Brazzaville for sabotage and disruption operations in DRC.
Below, my 10th of June tweet.
👇👇
Considering Criminal Paul Kagame's modus operandi, the covert operations in Kinshasa will involve assassinations of key figures, create insecurity, sabotage, intercept & hack military communication system, hit opposition figures & disseminate the blame on President Tshisekedi. pic.twitter.com/x45JvVb5S5

— Robert Patrick Fati Gakwerere (@RGakwerere) June 10, 2023