By: Robert Patrick Fati Gakwerere
Interviewed by his spokeswoman, DR Congo's head of state Félix Antoine Tshisekedi, reassured that the noose was tightening around the rebels of the M23 acting under the cover of Rwanda's regime. The M23 is beginning to be out of breath following active diplomatic manoeuvres by DR Congo.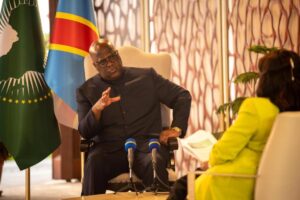 In this interview broadcasted on July 8, 2023, on DR Congo's National Television, the President of the Republic DR Congo noted that Rwandan people must be dissociated from the Kagame's regime. It is Rwanda's regime that is the root cause of insecurity which has prevailed in the eastern part of the DR Congo.
"I have always had a different approach from some of my compatriots who I find to be extremists. But I understand their feelings. We must always make a distinction between Kagame regime and the Rwandan people. Rwandan people are a our brotherly people. These people will always remain alongside the DR Congo. Why not build relationships with these people," he said.
According to Felix Tshisekedi, there would be no negotiations with M23 because they are mere puppets. It is will be useless to negotiate with them.
The Congolese and Rwandan peoples are condemned to live together forever. And it wouldn't be right to spoil our relationship with Rwandan people.
"It will make no sense, firstly because there are already marriages that have been made. There are economic and commercial exchanges that take place. It's impossible. You do it, you condemn hundreds, thousands or even millions of people to starvation because of one individual and his regime. I don't think that's the solution, that of severing diplomatic relations. I just think we should continue to put diplomatic pressure on Kagame's regime. It is actually working. Remember until March, we could still hear gunshots on the front line there. Today, there are no more shots. However, they used to fire on our positions and today this is no longer the case," he added.
"Today, there are expert reports which clearly demonstrate that the RDF is in DR Congo supporting their terrorist cohort, the M23, in order to destabilize our country. I simply believe in diplomacy, plus our own deterrence by preparing our troops because of RDF, only taking advantage of our past weaknesses. It's not that she's brave or more strong than ours, nothing at all," he noted.
Still on this subject, the President of the Republic DR Congo underlined that the war against Rwanda remains the last option.