By: Rpf Gakwerere.
* Ange Kagame ordered the brutal assassination of model Alexia Uwera Mupende who was brutally assassinated on 8th January 2019.
* Ange Kagame knew in advance the whole plan to assassinate Joy Agaba Rwigema who was brutally assassinated on 22nd November 2019. Joy Agaba Rwigema was a young sister to assassinated hero, Gen Fred Rwigema.
* Ange Kagame knew in advance and supported the plan to brutally eliminate gospel singer – Kizito Mihigo, who was brutally assassinated on 17th February 2020.
* Ange Kagame was part of the interrogation team that questioned 12 Presidential guard soldiers over the issue of Israel model weapons that hadn't been accounted for/disappeared from presidential guard stock. These 12 presidential guard soldiers were executed in July 2020, and these weapons are yet to be accounted – recovered. Ange Kagame was at the centre of their arrest, questioning and execution.
* Ange Kagame celebrated with friends the death of Burundi's president, his excellency Peter Nkurunziza (RIP), who died on 8th June 2020.
* Ange Kagame has on several occasions mocked pro democracy activists Diane Rwigara and Victoire Ingabire.
* Ange Kagame totally hates to the core, young social critic Guillaume Rutembesa, a Rwandan refugee who lives in Kenya and a high target for her wrath. Guillaume Rutembesa has of recently been exposing the extravagant lifestyle of the Kagames, especially Ange Kagame and his elder brother, Ivan Cyomoro Kagame. And everyone within dictator Paul Kagame's office knows very well how Ange Kagame hates to the core this young social economic activist.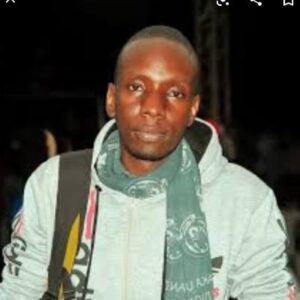 Currently, Friends are worried for the safety of Guillaume Rutembesa who hasn't appeared on Twitter since 6th November 2020, and those close to him can't reach him on his mobile.
Those who know him say this isn't his behaviour to keep quiet for days without communicating to them, they are all fearful of his safety especially knowing the criminal nature of those after his life.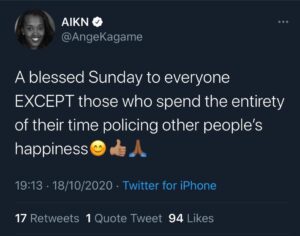 Has bloodthirsty Ange Kagame caught up with him? Is Rwanda's prominent social critic still alive? Is Guillaume Rutembesa going to be the next victim of Rwanda's fake princess – the bloodthirsty self proclaimed Co – Vice President – Ange Kagame? Without any single doubt, one day, they will answer for all their human rights crimes.
This year, 2020, journalist and Kagame critic, Josiane Uwizeyimana was kidnapped in Nairobi, Kenya, no one knows her whereabouts, and obviously she has already been assassinated.
Guillaume Rutembesa has been very active on twitter, @rutembessa.
————————————————————————————————————
N.B: you can follow me at – Robert Patrick Fati Gakwerere page (Facebook page), @RGakwerere (tweeter) or at my blog – rpfgakwerere.org.
However, for those in the enclave – Rwanda, the blog rpfgakwerere.org was blocked by the junta regime, it can't be accessed unless you are using VPN.