By: Rpf Gakwerere
'Abavandimwe,' Rwanda's Directorate of Military Intelligence outpost in Uganda is now using Victoria University as a mobilisation and meeting point.
In the clip below, DMI agents under abavandimwe are using Victoria University lecture room as a media centre. Just watch the video below and see where DMI agents led by a well known DMI schemer – Frank Gashumba are seated. It is a lecture room at Victoria University. Victoria University is a learning institution that is currently being turned into a DMI meeting hotspot for a terrorist criminal gang operating in Uganda.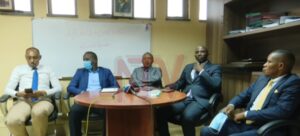 The current Vice Chancellor of Victoria University, Lawrence Muganga is a well known DMI/NISS operative. Soon, we shall be sharing more information about his relationship with criminal Paul Kagame's office, and his years working at Village Urugwiro (Rwanda's presidential office). You can refer to our previous posts in regard to this notorious DMI/NISS operative – Lawrence Muganga.
Does Sudhir Ruparelia know that his University is now a DMI outpost for subversive activities against a sovereign country Uganda? Why is Lawrence Muganga using Victoria University property to further his terrorist subversive activities?