The Egyptian Intelligence Department(MID) has signed a memorandum of understanding with its Ugandan counterpart the Cheiftaincy of Military Intelligence as a follow up of the first meeting the two agencies held in Cairo-Egypt in December 2020.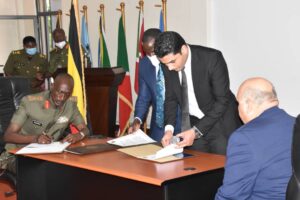 Uganda's defence ministry said Thursday it had signed an intelligence-sharing agreement with its Egyptian counterparts, bolstering security ties amid regional tensions over a massive hydropower dam on the Nile.
The deal will facilitate regular exchange of intelligence between security agencies on transnational threats such as terrorism.
The cheif of Military Intelligence Maj Gen Abel Kandiho who signed on behalf of the agency noted that, the agreement will see the two agencies share resourceful intelligence on a regular basis which is key in combating terrorism among other crimes.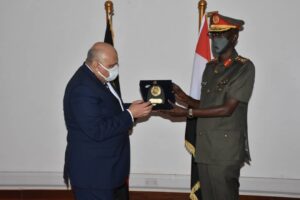 The signing ceremony took place in Kampala on Wednesday, 7th April 2021, following a meeting between Ugandan and Egyptian intelligence officials in Cairo in December 2020.
Major General Sameh Saber El-Degwiv signed on behalf of Egyptian Intelligence Department(MID), he stressed the shared security interests between the two nations.
In his speech, Major General Sameh Saber El-Degwiv noted, "the fact that Uganda and Egypt share the Nile, cooperation between the two countries is inevitable because what affects Ugandans will in one way or other affect Egypt," he was quoted as saying."