By: Rpf Gakwerere
Major General Cyrille Ndayirukiye was sentenced in January 2016, for life in jail for his role in May 2015 coup d'etat against the late President Peter Nkurunziza.
A failed coup d'etat that was planned, Engineered and orchestrated from Kigali under direct supervision of Gen James Kabarebe and criminal Paul Kagame.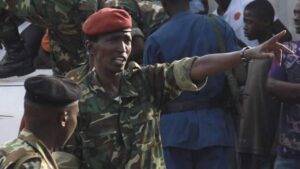 Major General Cyrille Ndayirukiye has died today on 24 April 2021, in Gitega prison, Burundi, where he was serving life imprisonment for leading the May 2015 Coup d'etat against the regime of the late President Peter Nkurunziza.
In January 2016, Burundian Supreme Court issued a verdict for 28 suspects in the failed coup plot staged on May 13, 2015, with four facing life jail.
The four generals in the group of 28 suspects were sentenced to life jail for being masterminds of the failed coup staged against President Pierre Nkurunziza and other institutions on May 13, 2015 while Nkurunziza was in Dar-es-Salaam, Tanzania attending an East African Community (EAC) summit.
The four generals are Cyrille Ndayirukiye, who was the deputy-chief of coup plotters, Zenon Ndabaneze, Hermenegilde Nimenya and Juvenal Niyungeko nicknamed Kiroho.
Nine other suspects were sentenced to 30 years in jail.
The verdict also said eight suspects will serve five years in jail while seven other suspects were acquitted.
The head of coup plotters – Major General Godefroid Niyombare – went into exile, Rwanda, after security forces failed to capture him when the suspects in the failed coup plot surrendered and declared their defeat after nearly 3 days of trying to take control of the country.
————————————————————————————————————
N.B: you can follow me at – Robert Patrick Fati Gakwerere page (Facebook page), @RGakwerere (tweeter) https://twitter.com/RGakwerere?s=08 or at my blog – rpfgakwerere.org.
However, for those in the enclave – Rwanda, the blog rpfgakwerere.org was blocked by the junta regime, it can't be accessed unless you are using VPN.