By: Seruga Titus
Guess who came to the rescue of Gashumba and Lawrence Muganga as I was putting them to task? Ignatius Kabagambe was on my page whining as if I stole his home property in Kigali.
Who is Ignatius Kabagambe? Why would Kagame's trusted cousin and Rwandan intelligence operations guru get interested in my posts replying Gashumba's lies?
Let me help you understand.
Ignatius Kabagambe like Lawrance Muganga was born in Uganda, it's such a good thing being born in Uganda.
Ignatius lived in Uganda and studied in Uganda only to drop out in senior six and ventured into forex exchange in Busia. Between 1994 and 2000 he was trading information between Busia and Kigali helping on missions in Nairobi.
In 2000 he returned to Kigali for brief training and was sent back to Uganda to study Mass Communication at Makerere University.
His mission during his study was to recruit as many student journalists as possible, befriend them and put them in bondage as agents of Kigali to positively report about Rwanda then and in the future.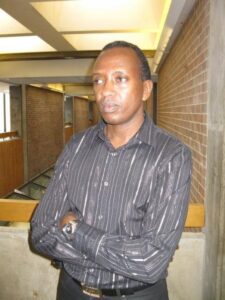 The Kigali Regime took advantage of the unsuspecting Uganda security to build cells in all sectors including journalism hence sponsorship of bad articles about government of Uganda using our own institutions. There are things you will see in the media that you never see in other medias in the world, some information borders along the lines of damaging the image of the nation if published.
Kigali gave Ignatius funds to open a bar in Wandegeya called Owens Bar. The place was used to get young Rwandan prostitutes into bed with influential men in Kampala. At the time men thought Makerere had young Nyaru squirting girls, yet the reality is that the girls were collecting information from men that could be used against the country.
After Ignatius graduation he was called back to Rwanda for yet another administrative mission, he was made the Managing Director of Rwanda Times. During this time Ignatius fired all Ugandan Journalists in Rwanda's New Times claiming they were Ugandans Spies working for General Saleh.
Like Lawrence Muganga, Ignatius was sponsored to study his masters in Canada. During his study he was given missions by Rwanda's intelligence which he performed well. Missions included collecting intelligence on students of Rwanda leaders and government officials of Canada.
Ignatius was later recalled back to Kigali and placed in Rwandan Governance Board charged with media relations. It's this board that is responsible with paying Ugandan Journalists that he(Ignatius) had recruited, together with international news firms.
Ignatius was fired after failing to pay some agents in Uganda instead he diverted the money to personal use in Uganda. This personal use was opening up Moto Moto bar.
The head of intelligence General Emmanuel Ndahiro a very good friend of Ignatius protected him and sent him back to Uganda on a another deadly mission in 2016 that saw deaths of more than 20 people.
Ignatius was arrested for killing someone in Wandegeya, he was bailed out by his brother who was later arrested by CMI and deported.
In 2017 Uganda launched a battle to clean up these cells and stop criminal activities performed by these cells after information got the the President that Rwanda had inflitrated our security system committing all sorts of crimes with impunity.
Ignatius knowing that CMI was on to him he left the country via Nairobi then Kigali. He is now Head of communications Kigali University hahaha intelligence is such a lovely game of minds.
Ignatius still benefits from Moto Mato Bar in Ggaba, Uganda which he left with the sister. The bar is still a meeting place for Rwandan agents and their targets who go there unknowingly.
To be continued.
We are not sleeping, we are going to expose this group and their associates.
#theinformant
Where Credibility Matters