By: Rpf Gakwerere
With Uganda's scientific elections for 2021, will criminal Paul Kagame still finance his identified presidential candidate and candidates for Parliamentary seats? Will Kisoro department in DMI, which is under Uganda desk, an intelligence desk under Brig Gen Dan Munyuza still sponsor identified candidates for parliamentary seats in Kisoro? Will Brig Gen Dan Munyuza's boys still interfere in Kisoro's local elections?
Brig Gen Dan Munyuza, the current head of Uganda desk has been gearing up for 2021 elections in Uganda, identifying anti NRM candidates or pro NRM candidates who lean towards criminal Paul Kagame to financially sponsor for elections.
For Kisoro, Kabale and Ntungamo axis, they were looking at both Parliamentary and different local election seats, in these respective districts. In their November and December 2019 meetings, Brig Gen Dan Munyuza had promised his boss to cause a political earthquake in Kisoro. For Kabale and Ntungamo, he promised shocks.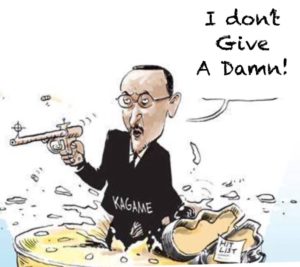 Remember, criminal Paul Kagame has directly been sponsoring anti NRM candidates since March 2001 elections in Uganda. No single general election has passed without him interfering, through sponsoring different anti NRM candidates or financing FDC.
With Criminal Paul Kagame's coffers nearly bankrupt, will the bloodthirsty dictator continue with his dark plan of interfering in elections of a sovereign country?
Don't be mistaken, criminal Paul Kagame doesn't give up, especially when his obsessed with something.
LET THESE KAGAME THUGS TRY, THIS TIME, THEY WON'T KNOW WHAT HAS HIT THEM. THIS TIME, HAKUNA MUCHEZO.