By: Rpf Gakwerere
When I post on how criminal Paul Kagame always sleeps with girls or married women within his protocol, gullibles merely assume that I am feeding lies or spreading unsubstantiated rumours. It's an open secret on immoral and unethical behaviours of criminal Paul Kagame and his female entourage.
Now, last night, on radio Itahuka, Ambassador Charlotte Mukankusi who knows criminal Paul Kagame very well touched on this issue, noting of personally witnessing criminal Paul Kagame jigjiging – shagging these young girls who move with him in his endless foreign trips.
As ambassador Charlotte Mukankusi noted in her radio interview, after getting tired of these young girls – their yoyos, he has eliminated some of these young girls in fear of spreading about his immoral and unethical behaviours. They die through mysterious illiness – multi-organ failures, sign of poison elimination.
In his shagging adventures, criminal Paul Kagame has no border, in regard to age or marital status doesn't matter; once he admires and you happen to be a citizen of his enclave, by all means, he will make sure he gets your yoyo.
Dear oppressed, enslaved, starving and unemployed Rwandans, know that your skinny ass dictator also loves licking YOYOs. It's his obsession since his days on Luwum and William streets as a mufere – conman, before Gen Fred Rwigema saved him from the tough streets of Kampala. His obsession of juiced YOYOs has continued up to today. Ask – inquire with those he has shagged.
Dear oppressed, enslaved, jobless and starving Rwandans; from the alter of Christ church, criminal Paul Kagame also eats this beauty below – Michaella Rugwizangoga (photo below). Her appointment as CEO Volkswagen Mobility Solutions Rwanda wasn't by a mistake, nothing happens in the enclave – Rwanda by a mistake. It was a thank you for having a nice YOYO. He is always jigjiging her everywhere.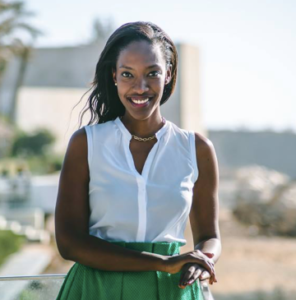 Obviously gullibles will call it gusebanya, but your criminal is a public figure and we have the right to question his decaying moral behaviours.
BELOW IT IS A LINK OF AMBASSADOR CHARLOTTE MUKANKUSI'S INTERVIEW, THE INTERVIEW IS IN KINYARWANDA DIALECT.
https://m.youtube.com/watch?v=hXTGPTXg75I