By: Seruga Titus
Top secrets declassified!!!
Uganda high command has approved a proposal to engage Kagame if any Rwandan Soldier steps foot in Uganda without authorization.
Last night a top-secret meeting was held and chaired by one of the Generals of the UPDF under the authority of President Yoweri Kaguta Museveni, this followed an arrest of two Rwandan nationals belonging to RPF in Kabale spying. Intelligence high believe that Rwanda wants to ambush Ugandan Forces and attack during relaxed time. They plan to occupy territory in Uganda and force negotiations. Rwanda highly believe they have the support of the people around its border with Uganda.
On the agenda was the continued provocations of Uganda by Kagame through hand-picked Media machinery. The latest was the allegation that a machete welding mob backed by Uganda tried to attack the Rwanda army and they were shot at killing a smuggler and a member of the mob. Rwanda claims this was done in Rwanda. However after killing they ran away leaving both bodies, why? These bodies where found in Ugandan territory one of the victims is a Ugandan. Rwanda has previously been accused of killing Rwandans in Uganda together with high profile Ugandans who seem to interfere with Rwanda's operations.
Three Generals in the Ugandan army demand action, real action this time not just a protest letter if Rwanda doesn't hand over soldiers that entered Uganda and killed people, to make matters worse Samvura Pierre and Habiyaremye Eric were dispatched to Uganda from the Rwandan Military to do surveillance in Kabale, they were arrested on 26th May by Ugandan Military and are being processed.
It should be noted the Rwandan Genocide was fueled by the media and Kagame Propaganda, Rwandan Media has made it a point to turn Ugandans of Rwandan Origin against Ugandans and in particular against Museveni. Pilato has personally spoken to many Ugandan journalists to influence stories that disturb peace in Kampala.
At first clandestine operations were sanctioned by Kagame and his Generals Nziza and Munyuza to infiltrate Uganda's Police and Military, officers recruited into these security organs were quickly promoted into CMI, SFC and ISO at all levels, others stayed in Police but where quickly raised to officers, these where recruited mainly from one area which is predominantly of Rwandese origin. Although some of these officers were not activated ISO director general and the former Minister of Security independently wrote reports to the president detailing the depth of infiltration.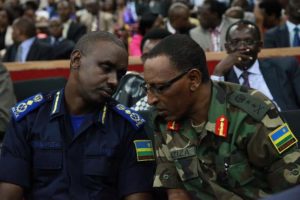 The background to this is that during the Rwandan war there were two groups, this division was caused after the death of General Rwegyema, this is same situation south Sudan is facing, to the surprise of many Uganda and Rwanda appear to support different sides in South Sudan.
Back to our Pilato, after General Rwegyema was assassinated the beginning of the Rwandan liberation struggle, a vacuum of leadership was created. General Kayumba and others stayed on to the battle with help of Ugandan Gerenals Like Tumukunde, Saleh, Otafile, Jet Mwebaze, Kazine and even the then army commander Gen. Mugisha Mutu, in fact Mugisha Mutu was specifically appointed to this position to facilitate this fight since he had interest in the matter having had tires long ago in Rwanda. Museveni saw the calmness of Gen. Mutu as key to this project, the PRA high command sitting in Kampala and Mbarara, and always chaired by indigenous Ugandans with only good intentions to "liberate Rwanda" I put the word Liberate Rwanda in quotes simply because it's definition has now changed from the changed in Rwanda depending on how you can see things.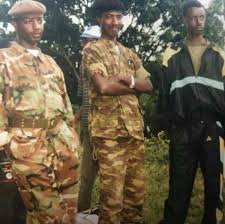 Surprising to many it was Maj General Kayinda Otafile that advised Gen Museveni to bring back Kagame from a US training to be part of Government after General Saleh and his men had taken over Kigali. Although Museveni was very hesitant he had found a good cadre of his NRA and personally trusted him, but Kagame was a known coward by many of his peers.
The RPA Voted to have a moderate Hutu to be fronted as the President after take over, this was because they wanted acceptance by the majority Hutu in Rwanda which is understood to be a smart move and it worked effectively until Pilato disagreed with the rest as usual, Museveni had used his influence to give Pilato some power over very important decisions, "it's Museveni's habit to put trust in people but later change his mind when he sees how they deal with things, General Kayihura is one of them when he controlled the entire security apparatus in Uganda, another is Amama Mbabazi" says a high placed confidential source, he (Museveni) will show his loss of trust in someone by denying that person audience, he did this to Kayihura, Amama, Mumwezi, to mention but a few.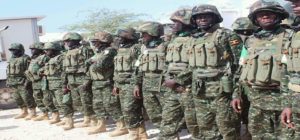 Museveni has Ignored and denied Kagame audience for a while, Kagame's last attempt to meet Museveni witnessed a show of distrust between leaders when president Museveni faked sickness and refused to hold hands for just a media show which was Kagame's intention. Museveni promised to visit Kigali but when Kigali organized an AU meeting Museveni and other leaders of East Africa including South Africa refused to attend, Museveni had received intelligence that his plane would be shot down and investigation would lead to no fruits. Intelligence was real because it came from an internationally respected intelligence organization.
Then a Ugandan General proposed to fly an empty plane, to Kigali to see if Kagame would order the hit, but the president argued that it's not worth, if Kagame find out its empty he will not out it down its possible he has someone at Entebbe or within SFC so that would be a waste and an embarrassment, we were not ready to immediately go for war, therefore, we would have lost the plane and confidence of Ugandans to fight back. But Museveni went ahead to send an advance party and made demands to have control of the tower before arrival which Kigali denied.
The continued sending of spies in Uganda and last weeks killings are seen as provocations by Rwanda for Uganda to attack first, the Kigali regime will then rally people in a propaganda scheme that Uganda is trying to take their land, they want to gain sympathy from Rwandans to fight on their side then fight back and occupy Kabale.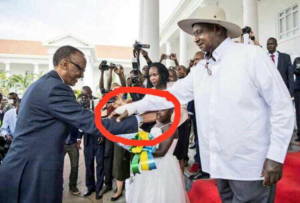 Ugandans forces are being moved closer systematically as the UPDF prepares for any possible attack, Ugandan Generals want to sort Kagame out. While Museveni is still playing his cards, his brother General Saleh is chest thumping.
A highly placed confidential source tells me that General Tumukunde known for his organization skills and high intelligence coordination skills with arguably the biggest intelligence network has been called into action and handled a task.
#theinformant
Where Credibility Matters