By: Rpf Gakwerere
Photo below was taken today, 31st October 2022, and the photo is of Rwanda's ambassador to DR Congo, National Intelligence and Security Services (NISS) operative Vincent Karega crossing river Congo, from Kinshasa, DR Congo to Congo Brazzaville, where he got his flight back to Rwanda aboard Rwandair.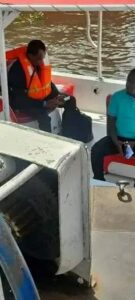 NISS operative Vincent Karega was made a Persona non grata on 29th October 2022 by DR Congo government for Criminal Paul Kagame's aggression crimes of invading DR Congo, a sovereign country.
This is terrorist Vincent Karega's second expulsion from foreign countries for terrorist related subversive crimes against humanity.
In July 2019, South Africa expelled him by advising criminal Paul Kagame to send another ambassador to represent Rwanda. Prior to his expulsion from South Africa, the South African government had expelled three Rwandan diplomats in connection to crimes against anti Criminal Paul Kagame dissidents.
Back to my usual outcry, the Greatlakes region will never witness or taste any peace as long as criminal Paul Kagame is still the ruler of Rwanda.