The rumour on the street is that the photo below of Clare Akamanzi was taken when she was two months pregnant. However, in early 2018, she was forced to abort by killer of babies – criminal Paul Kagame.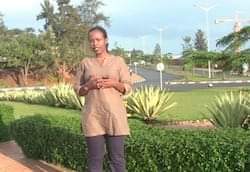 According to words from the street, the baby was for the sleaze assassin – criminal Paul Kagame. Dear oppressed Rwandans, your ruler has denied you an opportunity of having another prince or princess.
Clare Akamanzi is the official concubine of Pilato and CEO of Rwanda Development Board. She is dubbed as the minister of tourism since Rwanda doesn't have a tourism ministry.