By: Rpf Gakwerere
For those in Mbarara, is Mzee Rtd Captain Sam Katunda still alive?
As criminal Paul Kagame was celebrating Kagame day, with his minions and retarded sycophants preaching and elevating him to a "super hero" status, my mind flashed back to those good cadres within RPF/RPA struggle. My mind rolled back to Days that criminal Paul Kagame was living in luxury while young men and women were at the frontline.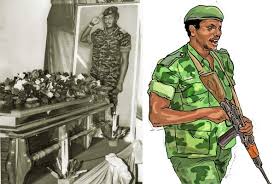 When the founding members of RPF/RPA met in 1987, Muyenga, Kampala Uganda, Captain Paul Kagame wasn't there. When the war started in 1990, Major Paul Kagame wasn't around, and when he arrived, he spent his time in Kampala and Mbarara only appearing at the war zone only to give assassination orders of those he suspected to be his challengers within the RPF/RPA organisation or for public relations appearances. When he knew that foreign journalists are to visit the war zone, criminal Paul Kagame would dash to the frontline for photo opportunity and selling himself as the face of the rebellion – struggle.
On 4th July 19, as criminal Paul Kagame aggrandized himself, my mind totally went through those people criminal Paul Kagame has betrayed throughout the way, my mind went through those people that criminal Paul Kagame would have at least recognised and give them medals for their contributions despite not being Rwandans. Instead, what criminal Paul Kagame did, was to forget everyone as he wrote a fabricated CV to propel his slim figure as a super hero, a messiah and a demigod.
While criminal Paul Kagame was celebrating Kagame day on 4th July 19, my mind continued rolling to the past, I rolled back to a certain gentleman, a very kind, trustworthy and honest man. Mzee Captain Sam Katunda should have been given at least a medal as a token for appreciation in the RPF/RPA struggle. Last year, I posted about the late Mzee Robert Rutehenda and his role in supporting the RPF/A struggle. Mzee Captain Sam Katunda was in a similar level.
Mzee Rtd Captain Sam Katunda is 100% Ugandan, but when the RPF/A war started in 1990, he contributed to his best in the name of freedom, in the name of those who have been marginalised to have what they call a country and in the name of liberty. Mzee Rtd Captain Sam Katunda gave it all without expecting any reward, he contributed money to the struggle, money which would have helped his young family and extended family.
During the war, Mzee Rtd Captain Sam Katunda gave part of his petrol station to RPF/A as a facility to store their petrol/diesel. He built extra underground store tanks to accommodate RPF/RPA petrol/diesel and he built excellent Boys'Quarter houses for RPF/A guards who were stationed at this petrol station in Mbarara along Mbarara – Kabale road. RPF/RPA patrol tankers also used to park at this station.
All these plus financially contributing to the struggle, Mzee Rtd Captain Sam Katunda didn't do it so that he may be rewarded at the end or get a political position. He was from a political school which believed in liberation struggle. And after the war in 1994, Mzee Rtd Captain Sam Katunda didn't dash to Kigali to demand for war spoils, he stayed in Mbarara and continued running his petrol station.
In any political ideological struggle, those who participated in the struggle are remembered, brought to the frontline to tell their stories and instill a sense of patriotism to the future generation. For example, up to present, the NRM is always giving medals to different individuals who participated in one way or another in FRONASA – NRM/A struggle.
In Zimbabwe, each Independence Day, ZANU – PF is always rewarding different individuals medals including giving medals to Zambians, Mozambican and Tanzanians for their role in supporting ZANU – PF. In Mozambique, the ruling FLERIMO has awarded recognition medals to different individuals including Tanzanians, Zimbabweans, Malawians..etc, for their support in Mozambique's independence war against Portuguese colonialists. The ANC in South Africa, SWAPO in Namibia…etc, have done the same.
When we come to RPF, a political organisation which is ideologically bankrupt and totally corrupt; everything is configured and fabricated into aggrandizing and praising one single coward – criminal Paul Kagame.
As minions, retards and sickos were eulogizing criminal Paul Kagame, I was thinking about a true pan Africanist, wondering whether Mzee Rtd Captain Sam Katunda is still alive, if alive – is he still living in Mbarara, how are his children and wife!