By: Seruga Titus
Sometime back I wrote about a former Rwandan Soldier who was a resident in Uganda with the protection of Gen. Kayihura. Buchana had become close to the first family masquerading as a front to businessmen who he late stole from by selling them fake Gold.
Buchana is believed to have masterminded the murder of a Belgian national in Uganda then he fled to Kigali and later to the UK since he holds a UK Passport.
At one point Buchana moved 2.5 million US dollars from the Rwandan Embassy in the UK to Uganda disguising it as business money. He has been funding crimes as a go between making payments to individuals as dictated by DMI.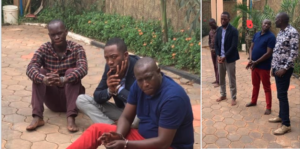 I can confirm that Ugandan Security has arrested the international goon and he is under key and Lock, Rwanda is expected to make another plea to release its citizens like this high profile goon.
This operation was carried out by Uganda Police, ISO and CMI.
#theinformant
Where Credibility Matters