By: Rpf Gakwerere
Totally unbelievable, totally unbelievable, nothing bad like taking blood of innocent people. Due to his human rights atrocities, the enclave's skinny dictactor is totally unsettled and always on the move.
After the satanic wedding ritual yesterday, 6th July 19, the dictactor didn't wait for "gutwikurura ceremony" which is supposed to take place Today. This is a cultural ceremony that takes place a day after the wedding.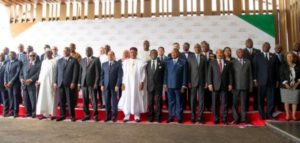 Yesterday, straight from the satanic wedding ritual reception, brutal Pilato jumped on his Gulfstream G650ER and headed to Niamey, Niger for The twelfth African Union (AU) summit, where the AU will be launching a huge free trade area encompassing most countries of the continent, the African Continental Free Trade Area (AfCFTA). The creation of that single market for goods and services is a key element of the AU's ambitious Agenda 2063.